Reminder: MONDAY May 3rd: B-Week Senior Graduation Rehearsal/Senior Walk Both In Person and Virtual B-Week Seniors should arrive on campus at 8:45 in the morning. Bring your cap and gown!

CHS SENIORS...Class of 2021! There will be another CHS Cap & Gown "Pick Up & Order" Drive Thru on this Friday April 2nd from Noon-3pm in front of Cumberland High School. Spread the word to all seniors and their parents!!!!

SOL Writing Tests for B-Week JUNIORS will take place on March 30 & 31 at 8pm in the morning for BOTH "In-Person" AND "Remote" students. Remote students will need to provide their own transportation to and from campus. If you have any questions, call Mrs. Lawson or Mr. Williams at 804 492 4212

CHS SENIORS/Class of 2021. This is a reminder that there will be a drive-thru cap and gown pick up and ordering session at CHS on Friday March 26 from 12 noon-3pm.

SOL WRITING TESTS for "remote" AND "in-person" A-WEEK JUNIORS will take place at CHS at 8am on March 23 & 24. Remote A-WEEK JUNIORS will need to provide their own transportation. Call Mrs. Lawson if you have any questions 804 492 4212

CHS is offering after school tutoring from 2:10-4:10...History & English on Mon/Wed and Science & Math on Tu/Th. Take advantage of this opportunity to make up missing work and stay on pace with your current assignments. Call 804 492 4212 for more info.

SENIORS!!! Cumberland Education Foundation scholarship application period will be running through March 15. The applications must be filled out online at
www.ccpsfinc.org
If you have any further questions, please contact Ms. Lawson or Mr. Williams.

Go to the CHS website to check out a presentation of historic Black figures in education and African-American CuCPS faculty, administration, and staff! #iamcucps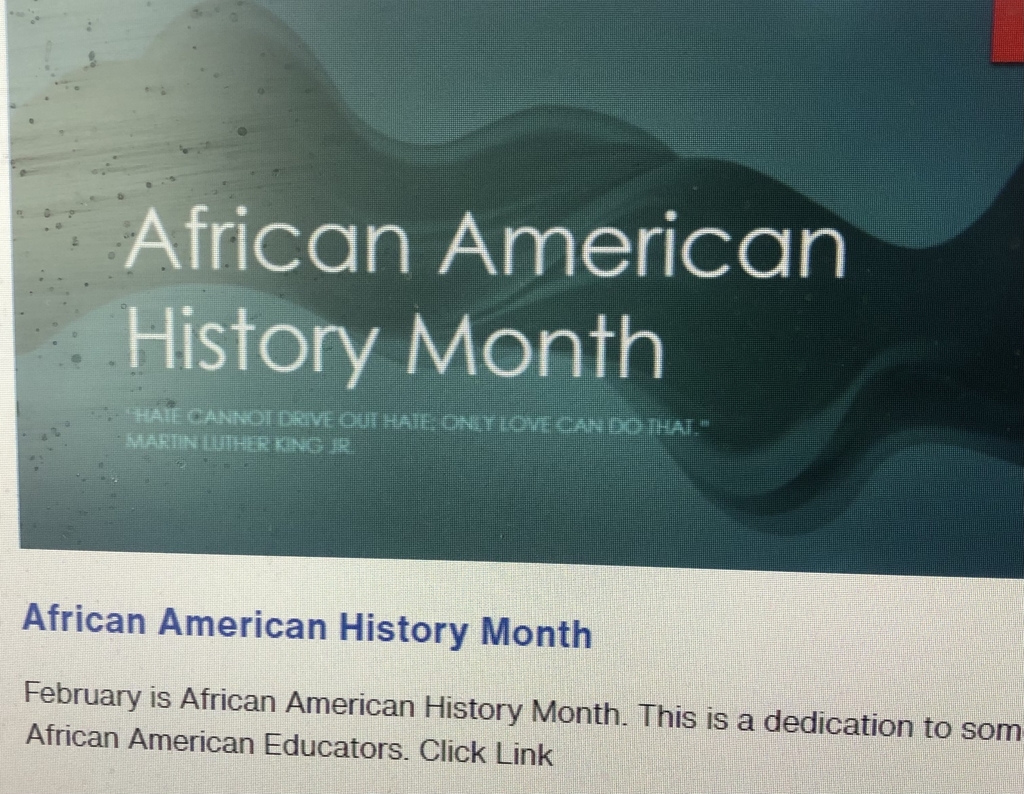 Live Twitter feed now on website

***Please remember the 3 W's: Watch your distance, Wear your mask, and Wash your hands. CHS will remain on the A/B schedule which is the following: 8:00am - 8:40am: 1st Period 8:45am - 9:25am: 2nd Period 9:30am - 10:10am: 3rd Period 10:15am - 10:55am: 4th Period 11:00am - 11:40am: 5th Period 11:45 am - 12:25pm 6th period 12:30m - 1:00pm: LUNCH 1:05pm - 1:50pm: 7th Period EVERY THURSDAY Learners Permit Testing from 2 pm - 3:30 pm --Sign up to take the test with Mr. Waechter. Feb. 10: Wrestling Regionals @ Matthews HS time is TBA Feb. 11: NHS Applications Due Week of Feb. 15 - 19: CHS Lady Dukes & Dukes B.B. State Playoffs TBA Feb. 15: In-Door Track Regionals Feb. 20: Wrestling States @ Salem Civic Center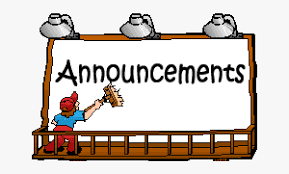 January 28, 2021-- Inclement Weather classes start at 10:10am Here is the schedule for the A-week students today: 10:15 - 10:55--4th period 11 am - 11:40--5th period 11:45 - 12:25--6th period 12:30 - 1pm--Lunch 1:05 - 1:50-- 7th period Enjoy your day!
Cumberland 4-H and Essence Ayers, a senior at Cumberland High School and a student in the Duke's Discover class, are teaming up to offer a Cake Decoration Exploration Kit. This exploration kit features a video of Essence teaching how to make Royal Icing, how to use 4 different decorating tips, and much more. This Kit is FREE and will include a decorating tip set with connectors, and several recipes. Registration is required. After the Google form is submitted, your family will receive pick- up information. Pick up will be the week of December 14th - 18th so that families will have the kit for the holidays. USB drives will be available for families with Internet challenges. Call 804-492-4390 with questions. Please register for a kit using this link:
https://forms.gle/ny6GXr8Kjht4D3Cn6

Good Afternoon, CHS Duke Nation Seniors, This is a reminder that FAFSA Night is tonight from 5 - 7 pm in front of the middle school. The location is a change. Please be sure to bring your device. Remember, we love you and are excited to see you!

Duke Nation/CHS Family—This is a reminder that your interim reports were put in the mail today and should be coming to you by the end of this week or the beginning of next week. I have attached a letter to your interims. PLEASE READ IT and have your parents read it as well. It basically states that the grades you see on your interim only show the assignments that you have turned in and received credit for, as of September 8th. Any assignments that you haven't turned in or listed as "incomplete" for the time being, due to adjustments we are making for remote learning. However, they must be turned in prior to the end of the first nine weeks. Any first nine weeks assignments that aren't completed and turned in to your teachers by the end of the first nine weeks, could bring your overall grade down drastically and have a negative affect on your semester grades and your yearly grades. So refuse the temptation for procrastination, and make sure that you turn all of your assignments in to your teachers prior to the end of the first nine weeks...IT'S IMPORTANT ...Mr. Williams loves you, and there's absolutely nothing you can do about it!!

Good afternoon CHS and CMS families! We are excited to announce that our library is now open on Tuesdays and Thursdays to our students in 5th through 12th grade. We would love to have you come visit and select a new favorite book to read while we are still apart. To limit the number of people in the library at once, appointments are required. Please go to the school's website and click on the link, library sign ups. If you are unable to access the internet, you can reach Mrs. Mattison at 804-491-8286 to schedule an appointment. When arriving, please enter our building through the outside door closest to the library located at the front of the CMS building. Thanks and have a great evening.

CHS Duke Nation August News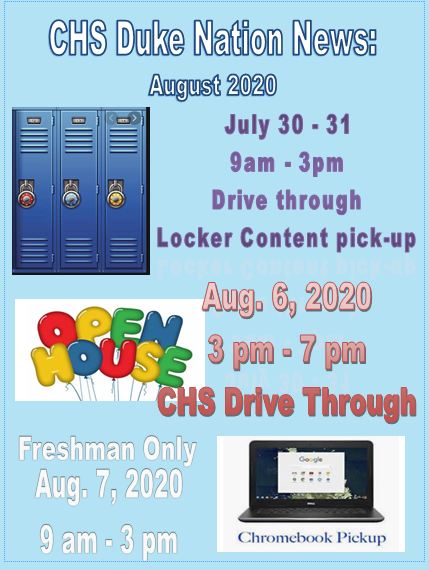 CHS 2020 SENIORS!!! On Tuesday June 2, CHS will have a "Diploma Drive Through "Celebration. There will be two sessions: a morning session from 10am-12 noon and an afternoon session from 1pm -3pm. Those seniors who have completed their requirements and passed all of their classes will receive a diploma on that day. We ask that seniors also bring their school laptops/books/uniforms with them so that they can return them to school. The "Diploma Drive-Through" will have three stations: 1) A Laptop/Uniform/School book drop off station 2) A Diploma distribution station 3)a picture taking station. We ask that seniors arrive in their cars wearing their cap and gown so that they will arrive already dressed for the diploma and picture stations. Out of respect for social distancing protocols, parents and students must follow instructions from staff about specifically when to get out of and back into their cars. Students and parents must come through the "drive through" in the same car. WE LOOK FORWARD TO SEEING OUR SENIORS ON TUESDAY JUNE 2!!!

CHS SENIORS!!! On Saturday, April 25 from 10 AM to 1 PM, CHS administration will be hosting a DRIVE-THRU SENIOR YARD SIGN HANDOUT in front of the CHS/CMS complex middle school entrance! For social distancing purposes, you and/or your parents will drive up to the middle school entrance, receive your sign through the car window, and go straight home so you can put up your sign! The signs are beautiful and were created as a result of fundraising efforts from the Cumberland community. Starting this weekend, when people drive past your house, they will know that it is the home of a Cumberland Duke from the class of 2020! Come by on Saturday and pick up a sign! We love you and there's absolutely nothing you can do about it!!!

Student Members of Duke Nation and the CHS Family— This is Mr. Williams. I know it has been a challenging past few weeks. You've had to stay indoors and make some significant changes about how you operate on a daily basis. I also know that many of you might be anxious thinking about how we're going to finish out the year, now that the building is closed for at least the final two months of the school year. I want you to know that even though we are not in the building, school WILL continue. Your teachers have been working diligently over these last two weeks on creating online and hard copy learning assignments, for the remainder of the school year, that will expose you to all the material you haven't had the opportunity to learn yet. The first of these assignments will be made available to you on the school website on April 6th. This coming weekend, I will provide instructions on how to access these assignments and your teachers regardless of whether or not you have internet access. Some teachers will be providing assignments every two weeks for the next six weeks, while others will provide projects that you will have the entire six weeks to complete. The best thing about receiving and completing these assignments, is that doing so will allow failing students to pass while providing enrichment to those students who were already passing their classes. During the next six weeks, CHS teachers will have established "office hours" that can be used to email or call teachers if you need guidance or assistance in completing the assignments. The only week without teacher office hours will be April 13-17 (our original Spring Break). Remember we are "Dukes" which means we are royalty. We can do anything that we put our minds to, and we will end this year successfully no matter what obstacles lie in our path. BE SMART! STAY SAFE! We love all of you...and there's absolutely NOTHING you can do about it!!! I look forward to calling you this Saturday to let you know specifically how you can access all the activities that your teachers have prepared for you.

CHS Seniors. The CHS faculty misses all of you and we hope you and your families are doing well and staying safe at this time. Since you will not be able to present your senior projects in person to our judges, we would like for each of you to submit a 1 to 2 minute "video reflection" on your senior project that will include the following: What your project was Why you chose it as your project What you learned from your project Doing this video will be a great opportunity to show the community and future generations the level of dedication and hard work that you showed in pursuing your project goals. You may submit your videos to Mrs. Haigh through google classroom or email. We can't wait to see and hear about all the great work you did this year! ...and always remember that Mr. Williams loves you and there's absolutely nothing you can do about it!