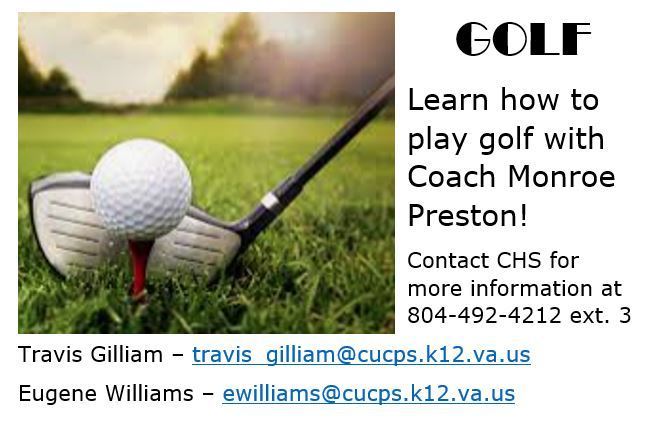 This is a revised a message. The Monday, Wednesday, Friday Football and Boys Basketball conditioning workouts from 3:30 -6:30 pm started this week and are already up and running.

Starting June 7th, Volleyball Summer workouts will be Tuesdays and Thursdays from 3:30-5:30 pm. Starting June 13th, Football and Boys Basketball Summer workouts will be on Mondays, Wednesdays and Fridays from 3:30-6:00 pm. Cheer conditioning will be from June 20th to June 23rd.

The CHS Class of 2023 will be hosting a "Splasn Into Summer" Event on the CMS side of the Cumberland complex today from 1pm to 5pm. There will be fun, refreshment and good times for kids of all ages! Admission is 5 dollars! We look forward to seeing you there!

Our CHS Soccer Team will be hosting a first round regional playoff game today against Galileo Magnet High School at the CHS field. The game will start at 6pm and admission will be 8 dollars either at the gate or on ticketspicket.com. Let's show our Duke Pride and beat Galileo!

The livestream link for today 2022 Cumberland High School Graduation will be on the CuCPS Facebook page. Graduation starts at 7pm

Class of 2022: Graduation is tomorrow, and along with your cap and gown, the attire for boys is button down shirts, ties, slacks and dark shoes, while the attire for girls is an appropriate top with slacks, a skirt, or a dress. Line-Up is at 6:15 pm. The ceremony starts at 7pm.

This call is to remind all members of the Cumberland class of 2022 to report to CHS on tomorrow, May 12th at 8am for the Senior Walk , class picture and mandatory graduation practice. Seniors MUST bring and wear their cap and gown for the senior walk and class picture.

IMPORTANT UPCOMING DATES FOR a SENIORS!!! 5/4-Senior Night 6pm 5/5-Mandatory Senior Practice 1pm 5/6-Sr. Project Presentations 5/12-Sr.Walk@CES/Mand. Practice 8am 5/13 Graduation-Sr. Lineup 6:15pm 5/13 Graduation Ceremony 7pm

CHS Class of 2022 Senior Night will be on Wednesday May 4th from 6pm to 7:30 pm in the CHS Cafetorium. Senior scholarships and awards will be announced and dinner will be served from 6pm to 6:30 pm. Parents are welcome. CHS will be sending out letters with more details.

Autism Awareness Week

REMINDER: COLLEGE NIGHT at Cumberland HS will take place Wednesday 3/23/22 from 5-7pm in the CHS/CMS cafetorium. COLLEGE REPRESENTATIVES will be there, financial aid information will be provided…and a $1000SCHOLARSHIP RAFFLE will be held. We look forward to seeing you there!!!

If you are a member of Cumberland High School Winter Guard, Winter Guard practice is tomorrow Saturday March 5th from 10am to 5pm. Winter Guard Practice will be every Saturday until further notice.

CHS students and teachers: In the event that we have inclement weather on Monday, February 14, A virtual instruction schedule has been sent out via email to students and teachers. Please check your emails this weekend for any further instructions. We might not even have a snow day on Monday. But just in case we do, be sure to check your email… Thanks and have a great weekend

CHS Teachers & Students: We will be going remote again on Friday Jan 21. Please check your emails for instructions. We will be following the same procedures as we did on Jan 18 & 20. Be Safe!

Jan 18-21 Virtual Plan Hardcopies of classwork for Jan 18-21 were provided on Jan 14. (just in case the snow was so heavy that we wouldn't be able to come to school this week...and considering possible power outages) Teachers will be able to answer any student questions about the assignments in the following morning and afternoon Google Meet /Virtual Meeting sessions*: English- 8:30-9:00 am; 11:00-11:30 am Math- 9:00-9:30 am; 12:30 am-1:00 pm Science- 9:30-10:00 am; 1:00 pm-1:30 pm History- 10:00am-10:30 am; 1:30-2:00 pm FL/CTE/PE- 10;30 am-11:00 am; 2:00pm-2:30pm *Teachers/Students without power will not be able to attend Google Meet/Virtual Meeting Sessions

Tonight's Boys Basketball game against Buckingham has been canceled

Due to Covid concerns regarding a member of the Central Lunenburg basketball team, there will be no boys basketball games tonight at Cumberland High School. If and when the Boys JV and Varsity games against Lunenberg are rescheduled. Administration will let you know.

FAFSA Night Information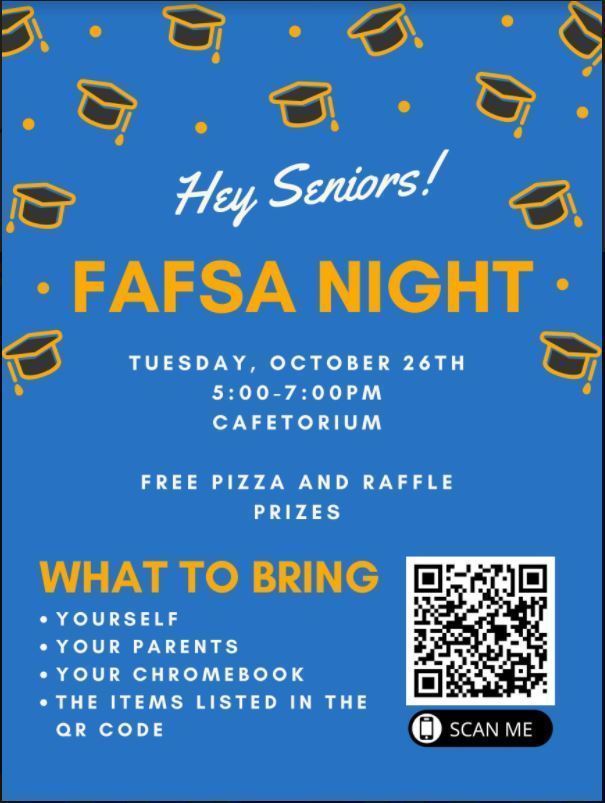 FAFSA Drive-In