Bus 17 will be late today. 11/18. The driver will begin picking up the route at 7:30 this morning.

Coffee Chat 11/15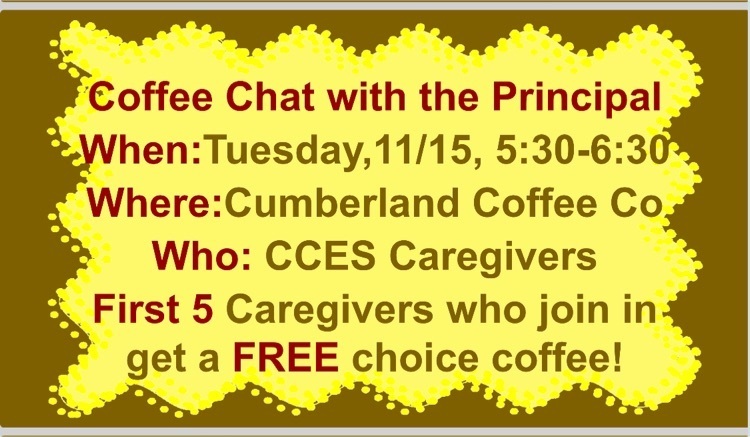 Remember to send in your forms if you'd like your child to see the dentist. Due Monday 11/14. Also, remind all veterans that we'd like to serve them breakfast-to-order tomorrow morning, 11/14.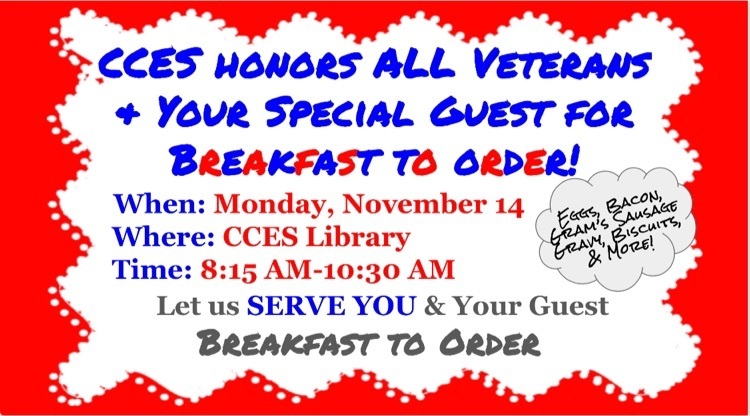 For the first time in THREE school years, the Mobile Dentist will return to CCES. There are flyers coming home about the services today - check your student's bookbag. There is a form that will need to be completed and returned by November 14th to be placed on the list to be seen by the dentist. You may also register your child online at
www.MyMobileDentist.com
. Please check this out, as it is an excellent opportunity for your children to receive dental care that they may need. If you have further questions please call our CCES School Nurse, Tracy Stinson. She will be happy to assist you.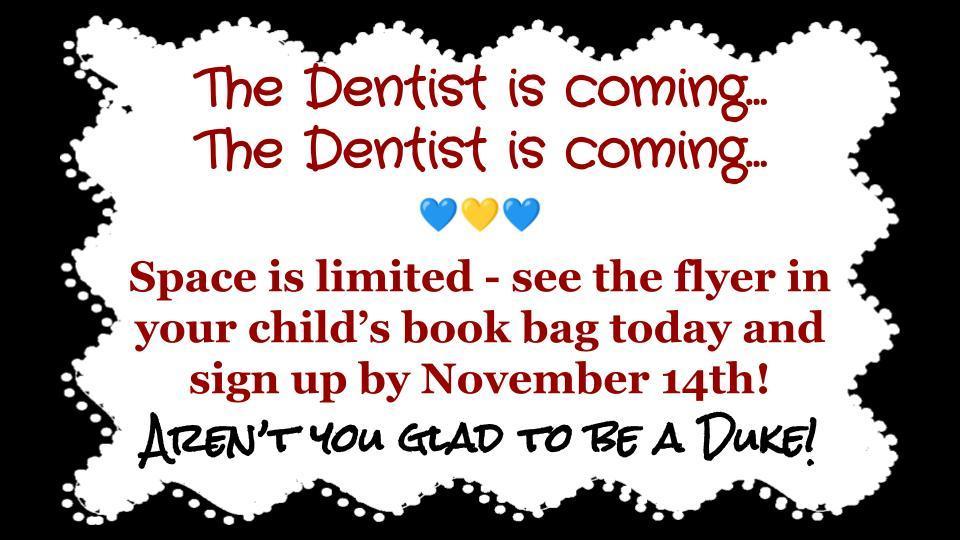 CCES honors local Veterans on Monday, November 14, 2022.

Hey CCES and CMS Families: Mark your calendars!

Next Up at CCES: Back to School Night with Student-led Goal Sharing coupled with our community partners sharing about the many opportunities for your family. Find out about Duke YOU, our version of Parent School! Mark your calendars!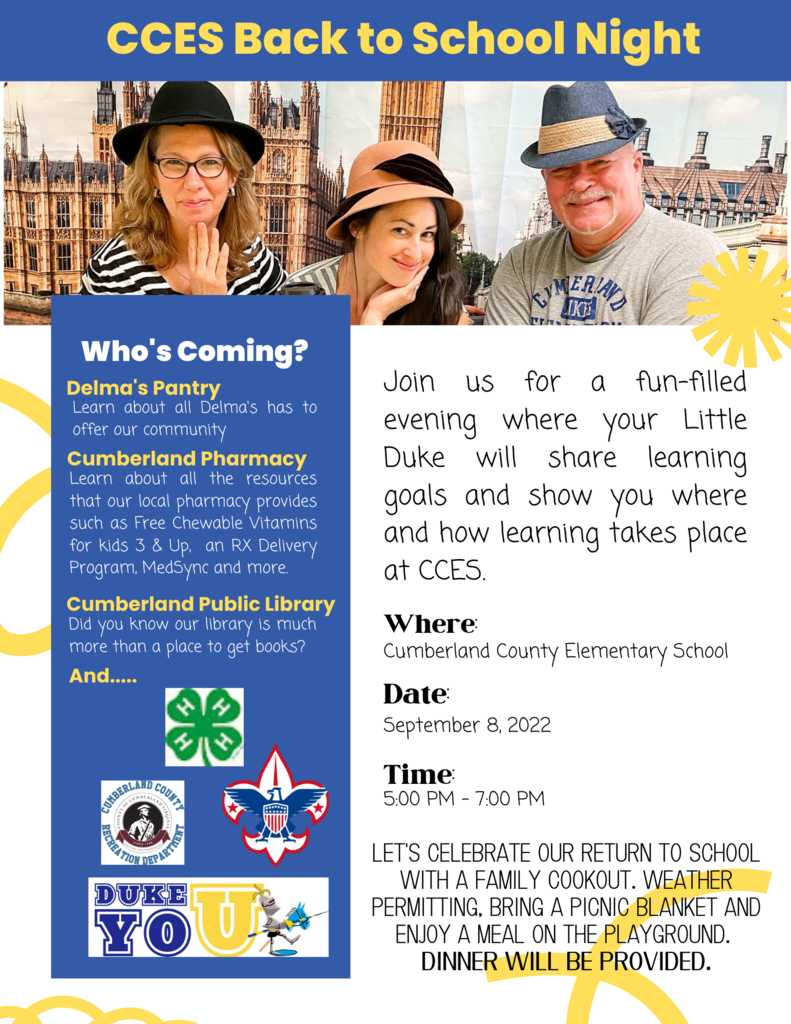 Join us for Stop, Pop, and Play on September 1, 2022. 5:30 at the CCES Playground.

Are you interested in learning a trade, moving to a higher paying job, or earning a new certification but you can't afford to stop your current job? Come to CCES tomorrow at 4:00 or 5:30 and see how you can get paid to train and receive other support just by being a Cumberland resident. Career Works is coming to CCES tomorrow. Don't miss out!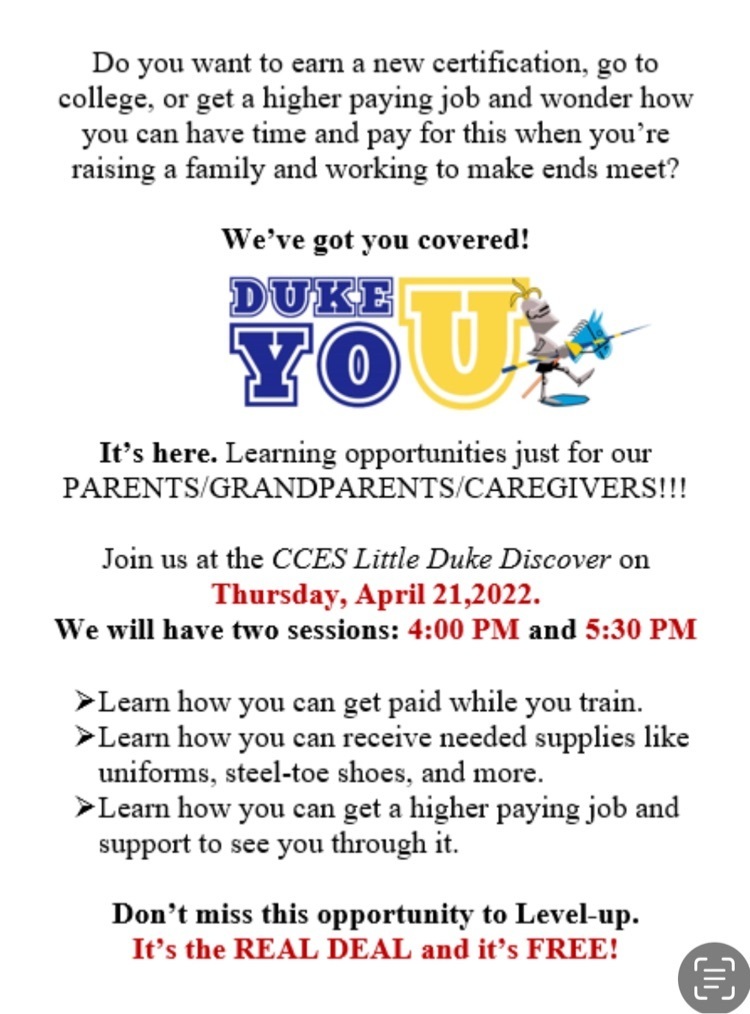 Let's wear purple tomorrow, 4/20/22, in recognition of PurpleUp Day! Go Dukes!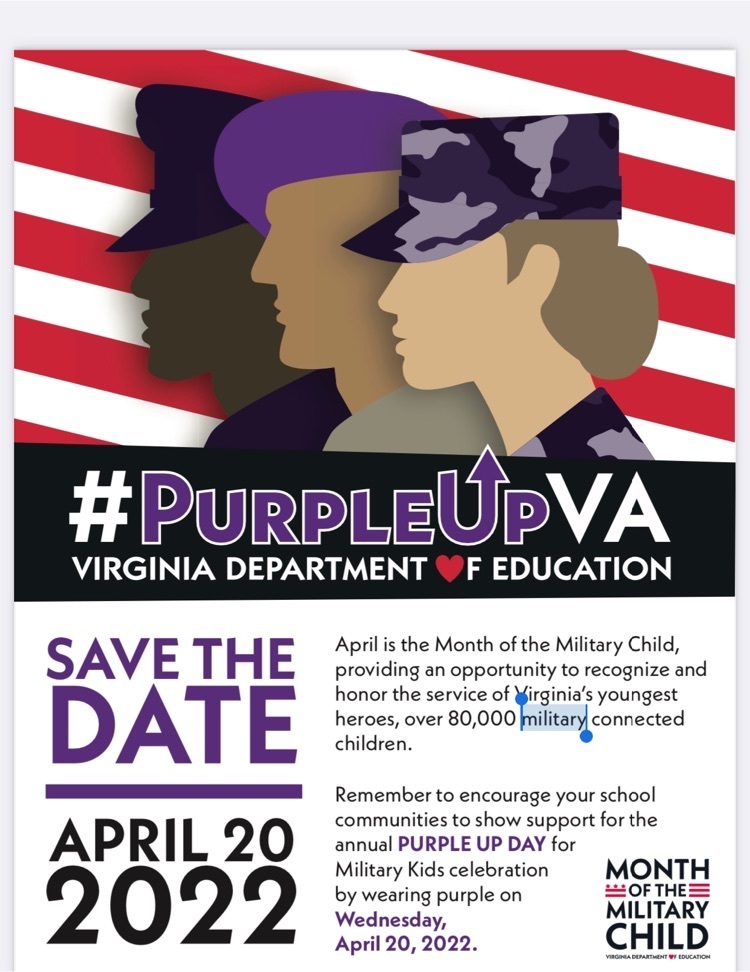 Autism Awareness Week

Good morning CCES Families. The 21st Century After-School program is cancelled today, Thursday, March 31, 2022. Students will ride their regular transportation home.

CCES is Wild about Reading! Bring your favorite stuffed animal to school on Monday for Buddy Reading! #ccesdukes #iamcucps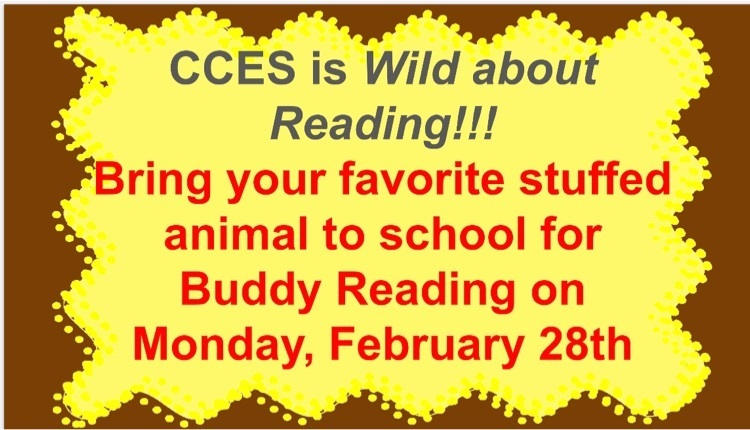 The CCES Library is open today, 12/29/21, from 10:00-2:00. Return, checkout, or be the first to browse our new book selections! Mrs. Mort is ready for you! 💙💛💙

This is a reminder that tomorrow, Friday, December 17, 2021, we dismiss at noon. Parent pick up begins at 11:45am. Please be sure to have an adult at the bus stop or at pick up on time so our staff can also get to their families to begin Winter Break. Thank you for a wonderful first semester. Happy Holidays from your CCES Family

Bus 20 alert.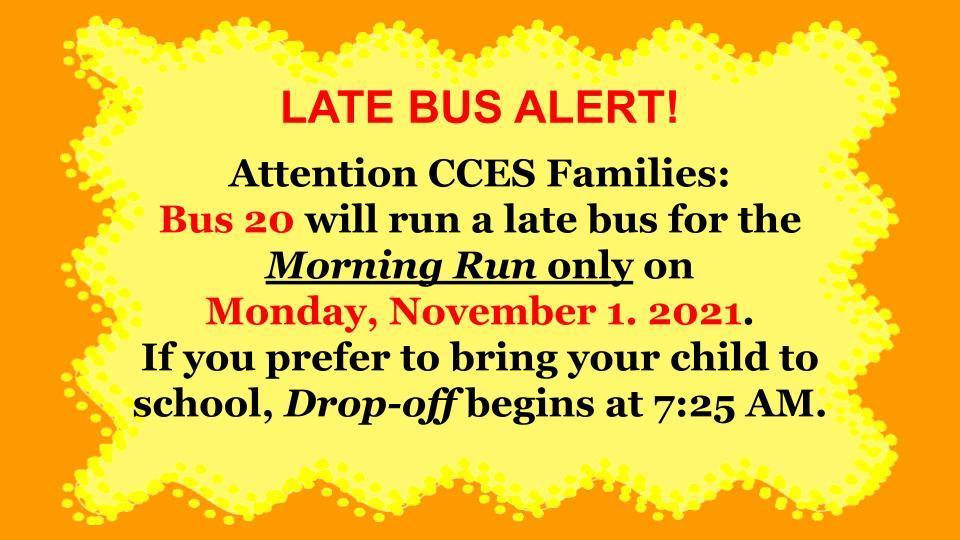 Bus 18 alert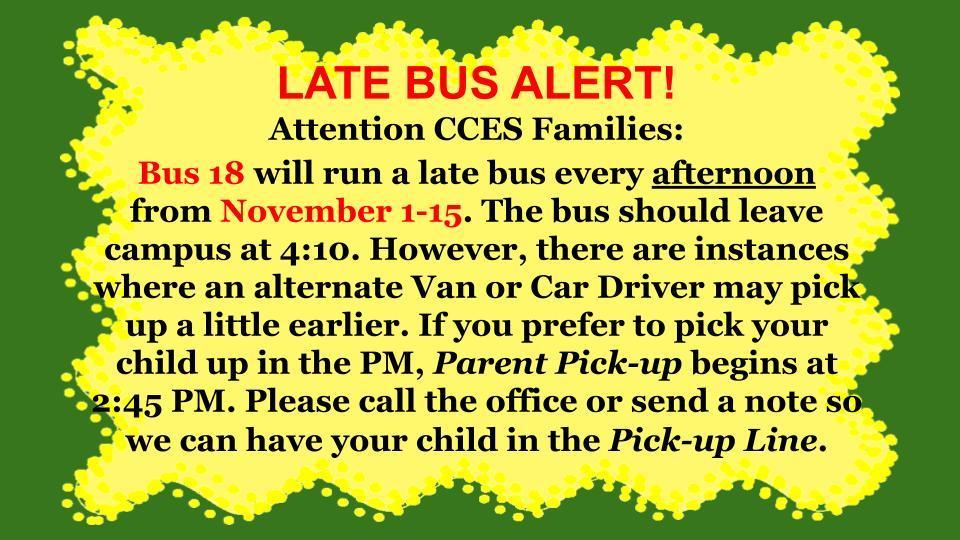 Bus 8 alert.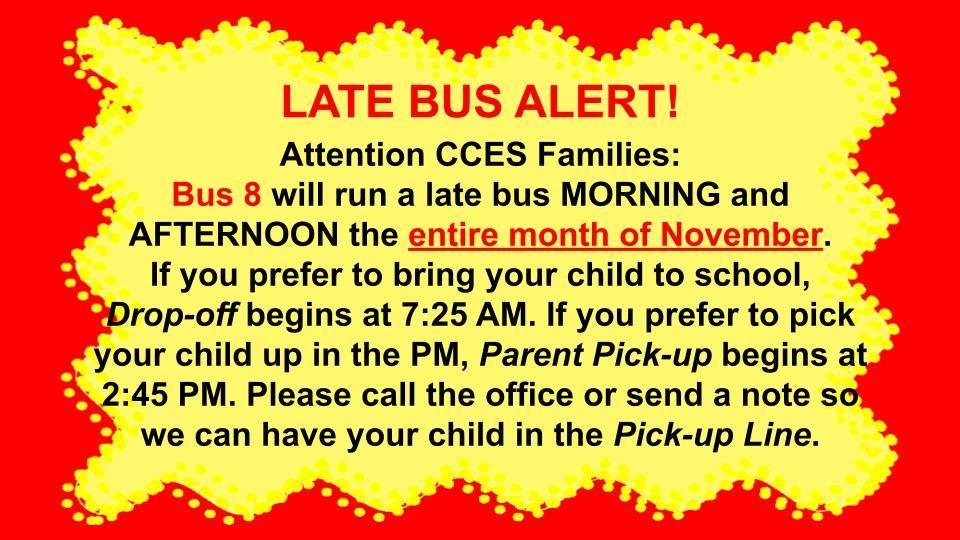 Bus 11 alert.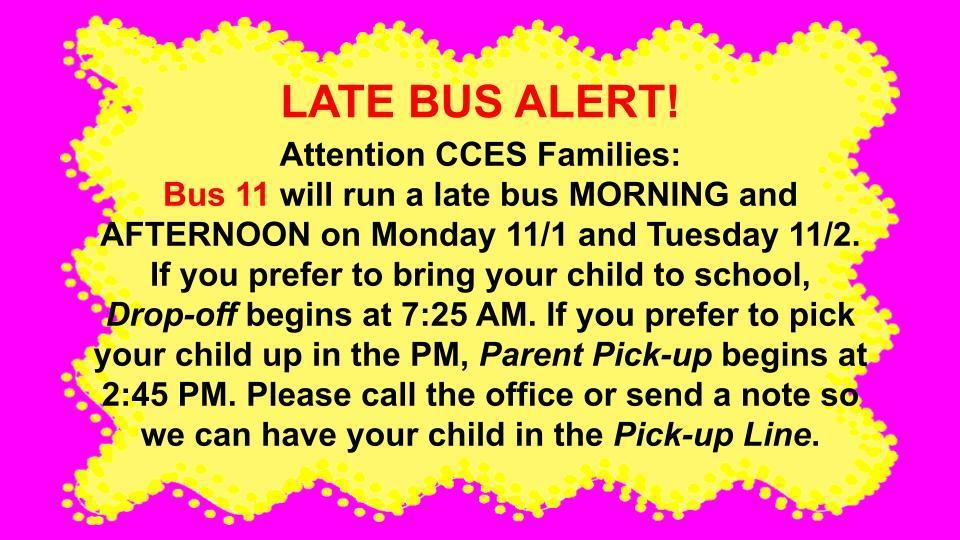 We have 4 late bus alerts. Please note that Bus 8, Bus 11, Bus 18, and Bus 20 each have different late days and/or late routes. Each will be posted individually.