STAFF HIGHLIGHT - MS. OVERSTREET Check out our amazing art teacher being recognized for her teaching and efforts during the pandemic to reach all students!! We are so proud of Ms. Overstreet and appreciate her every day! Check out the article here along with links to her Mrs. O's Art Studio on Facebook and YouTube.
https://www.farmvilleherald.com/2021/07/a-little-creativity/
Tomorrow, the Class of 2021 will be participating in graduation exercises. Exercises will be video-streamed at the link below for both the 10 am and 2 pm ceremonies. If you would like the opportunity to view the event from the comfort of your own home, visit
https://facebook.com/CuCPSAthletics
to watch the FacebookLive stream of both "A" and "B" Week graduations. Both livestreams will begin approximately 5 minutes prior to the start of the of the exercises. "A Week" graduation will begin at 10:00 am and "B Week" graduation will begin at 2:00 pm.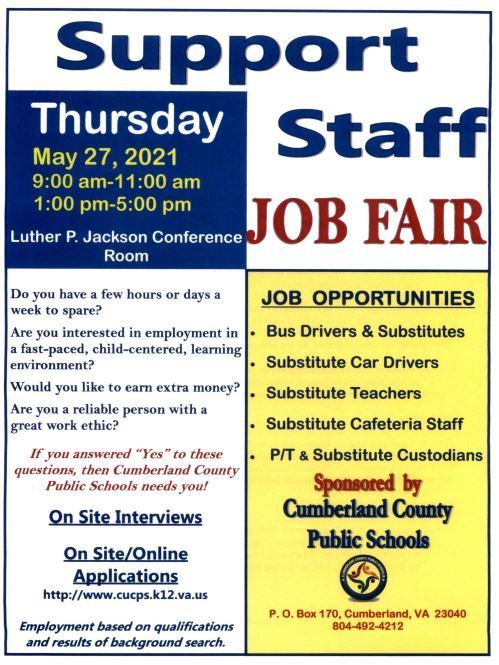 Celebrate Autism Awareness Week with The Little Dukes! Tomorrow is Pajama Day. Let's do this! #ccesdukes #iamcucps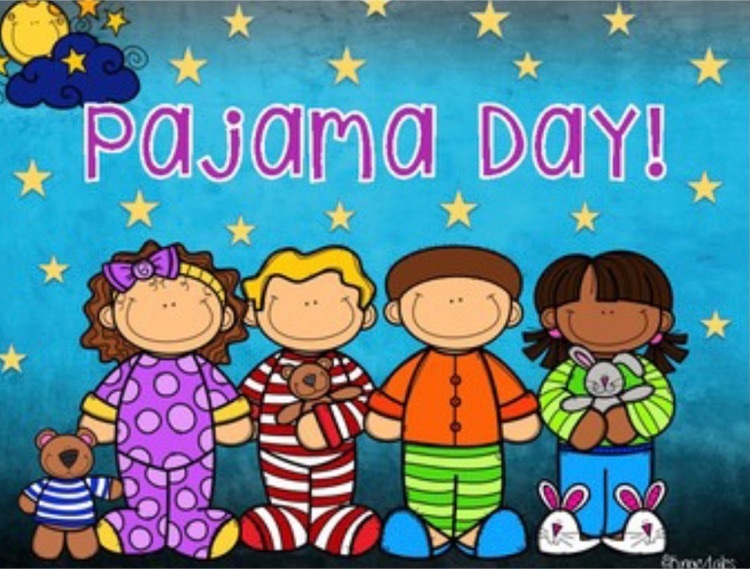 Superheroes come in all shapes and sizes! Tomorrow, CCES kicks off Autism Awareness with Superhero Day. What's your superpower? #ccesdukes #iamcucps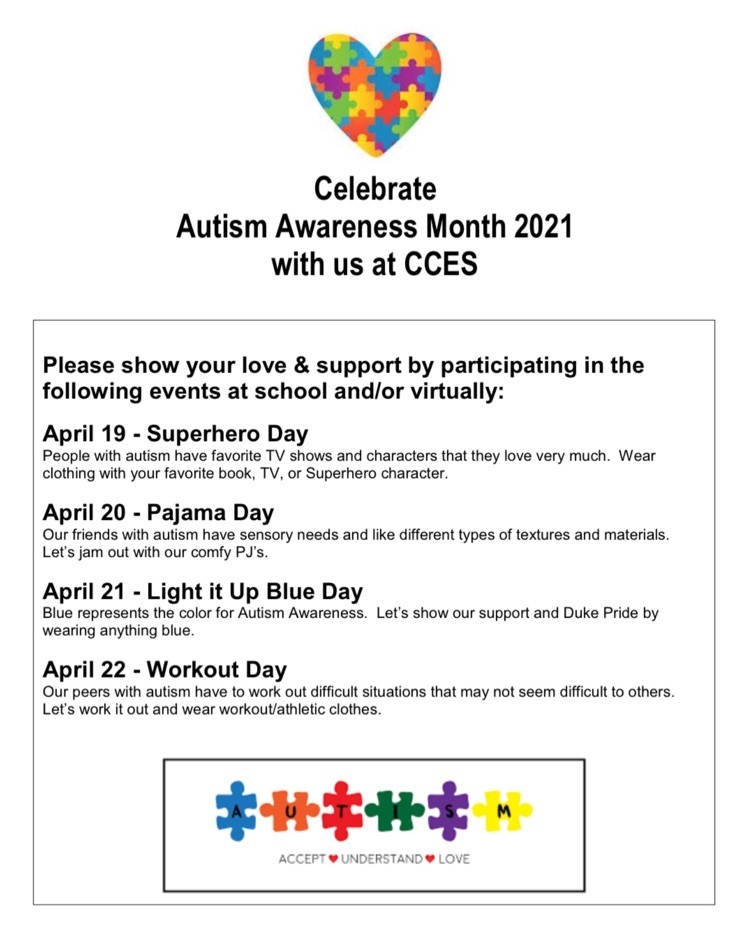 The Little Dukes are celebrating Autism Awareness Month next week. Show your Duke Pride by participating remotely or in/ person! #ccesdukes #iamcucps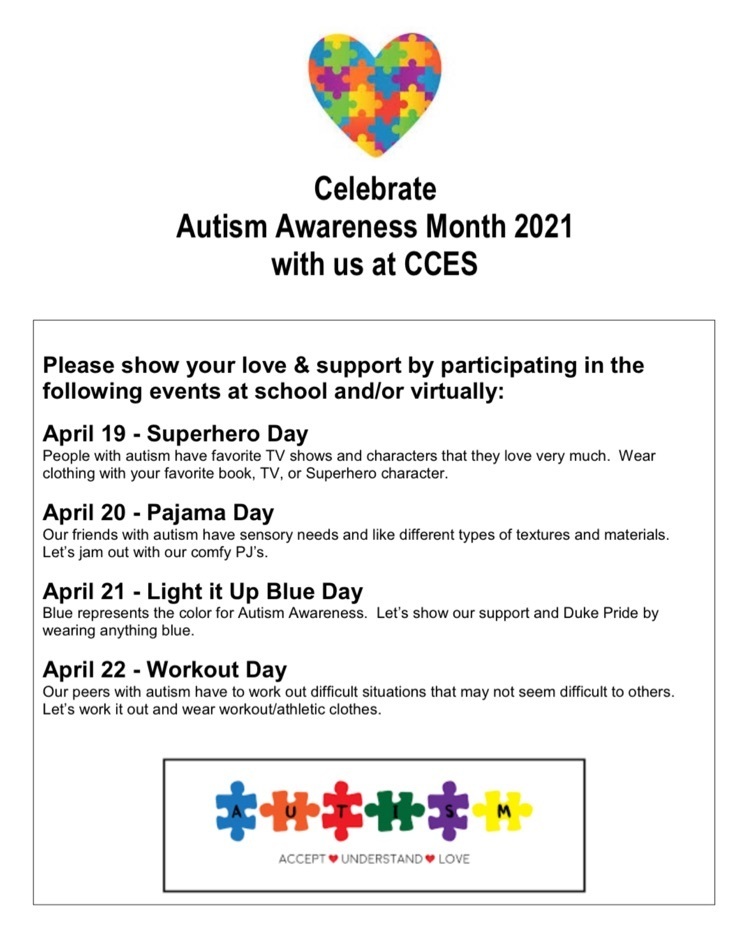 CCES celebrates Autism Awareness Week beginning Monday, April 19, 2021. We hope that you will join us. #ccesdukes #iamcucps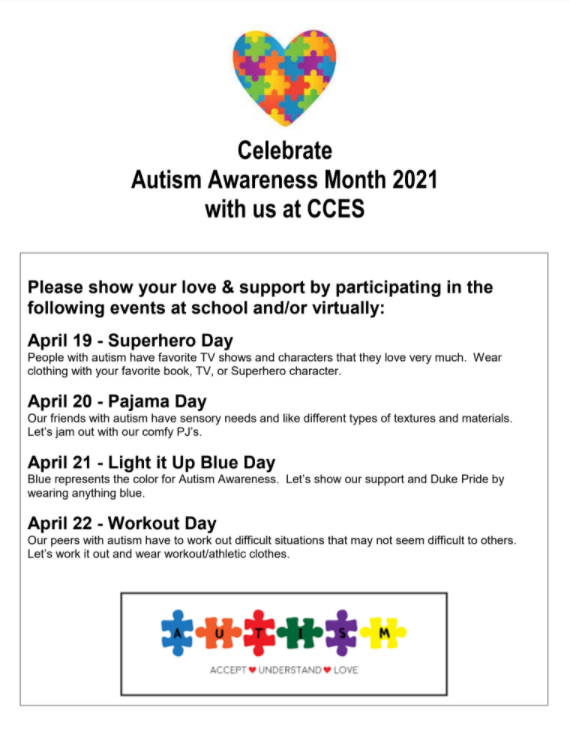 Held on April 15th of each year, "Purple Up! For Military Kids" is a day to wear purple to support and thank military children for their strength & sacrifices. Please join CCES and show your support by wearing purple this Thursday. #iamcucps #ccesdukes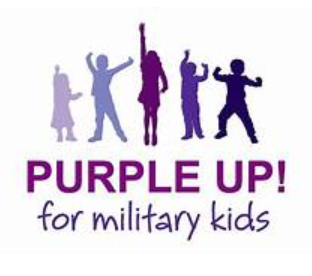 This is a reminder that The 21st Century Friday programming will run tomorrow, Friday, April 2. Buses will run as scheduled. Parent drop off begins at 9:45 a.m. Dismissal time is at 2:00 p.m.. Lunch choices tomorrow are Chicken nuggets or lunchable. We have amazing things planned and we can't wait to see your student!


Save the dates: Spring Pictures are happening soon! A Week: Wednesday, 3-24-21 B Week: Wednesday, 3-31-21 Virtual Students call Mrs. Carden for an appointment. #ccesdukes #iamcucps

Pre-Kindergarten Registration is Coming Soon. See the flyer for more information. #ccesdukes #iamcucps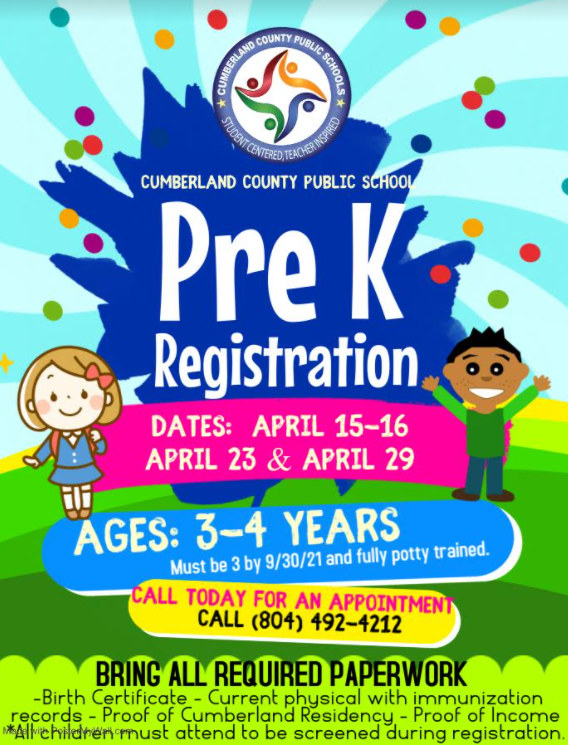 Reading gives you Superpowers! Tomorrow, wear what gives you superpowers! T-shirt, superhero costume, fancy outfit...you decide! Go Dukes! #ccesdukes #iamcucps

Reading is Relaxing! Wear your PJs to school tomorrow! #ccesdukes #iamcucps

CCES celebrates Read Across America next week. Be sure to capture the moments and share with us on social media. Remember our hashtag! #ccesdukes #iamcucps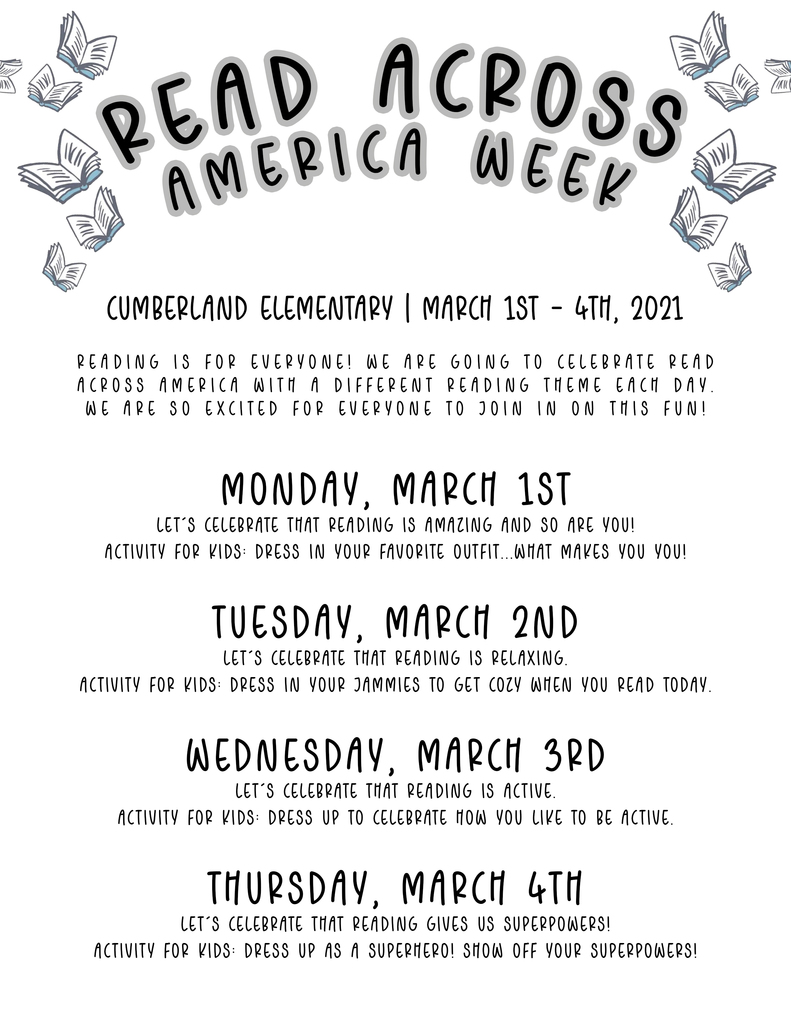 Good evening, This is a reminder that our Distribution Day for All-Virtual families has been rescheduled for next Monday, March 1, 2021. Hours are 10:00-12:00 and 4:00-6:00 pm. If your A Week student is absent this Thursday, please plan to attend as well. #ccesdukes #iamcucps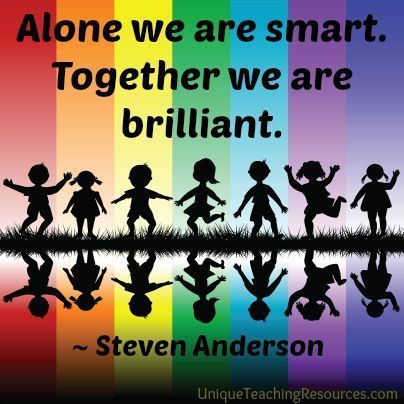 CCES: Show us pictures of your snowmen or snow day-inspired drawings/paintings/crafts/poetry. All will be entered in a drawing for a Vito's pizza! Prefer to write a song? No problem. Post to the CCES Facebook page or Tweet using our hashtag, #ccesdukes Integrate the 5Cs and be entered in a 2nd drawing. All entries must be posted today, February 1! Aren't you glad that you're a Duke?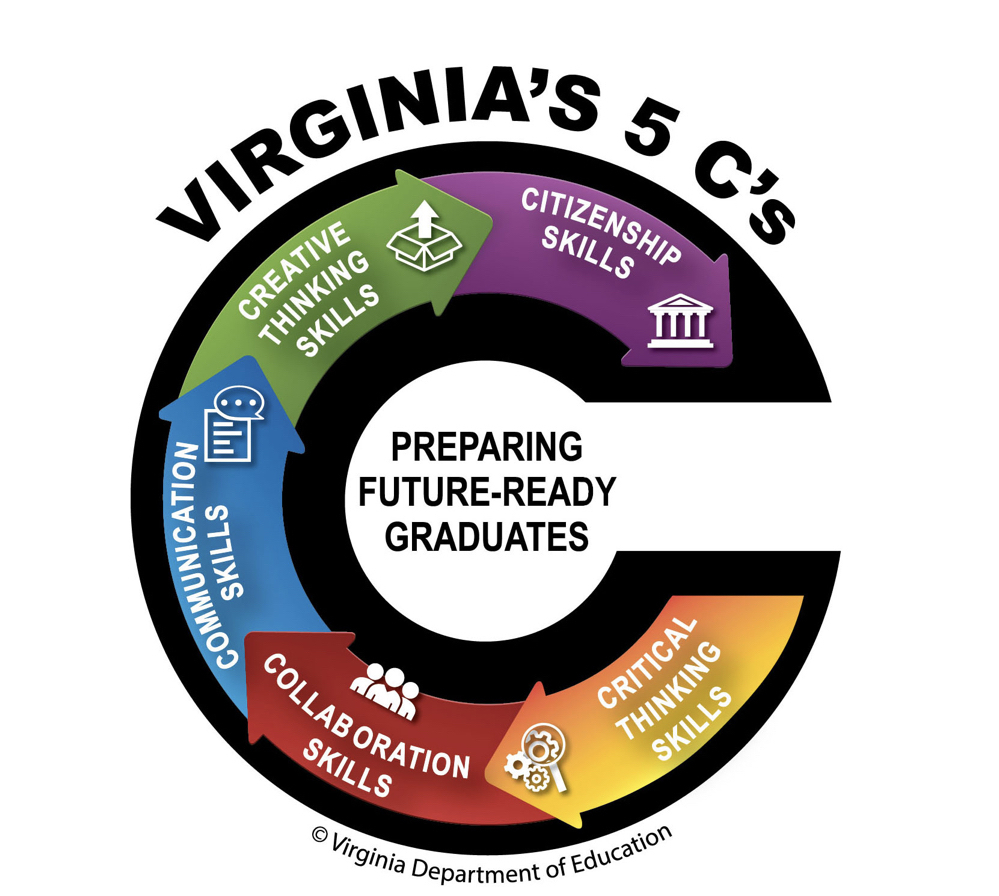 Remember: Distribution Day is tomorrow, Monday the 25th, at the CCES Bus Loop. Binders, Books, Prizes, and lots of Duke Pride. Which homeroom can get 100% ? Surprise treat for the winning homeroom! Let's do this.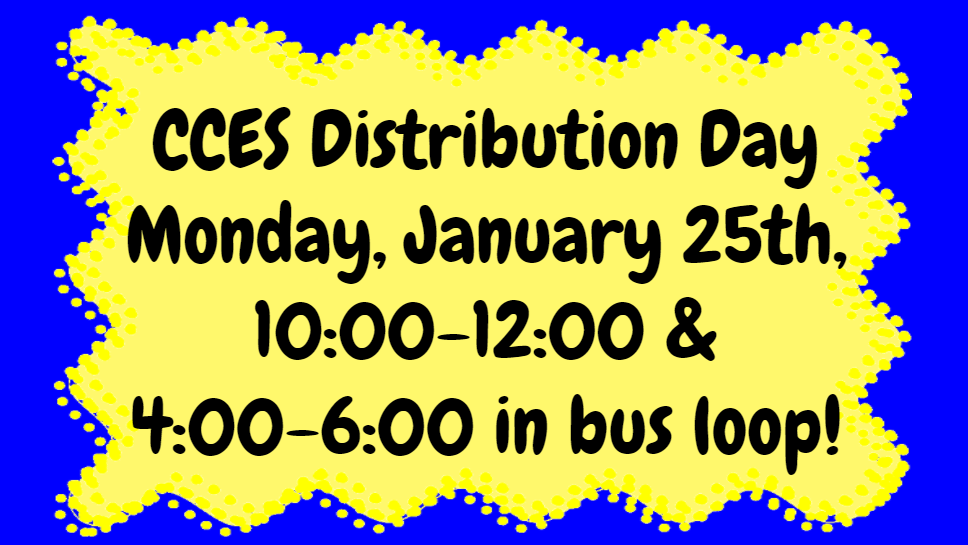 Parents of 21st Century After School Students: In place of our after school program for Thursday, January 14, 2021, we will be offering a homework help session for students. The link will be posted on the CCES Facebook page as well as the Cumberland County website's Instruction page. This is a great time for your child to get help. Thanks and hope you will join us.
https://cucpsk12.zoom.us/j/99647159219