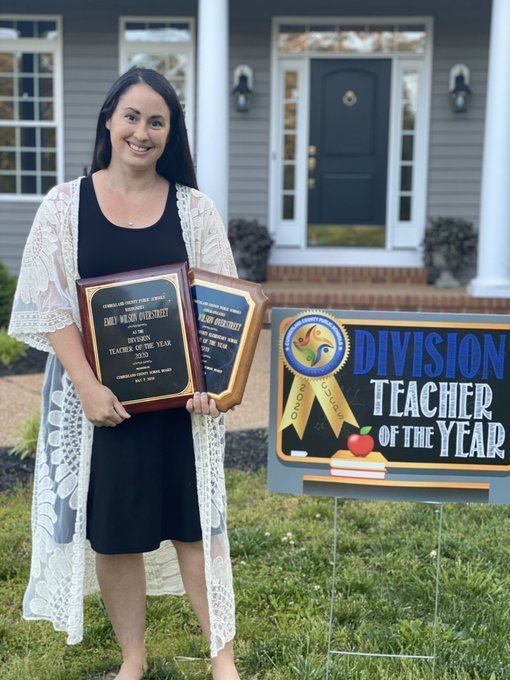 Mrs. Emily Overstreet was named CuCPS Teacher of the Year at the May School Board Meeting. Emily has been teaching art at Cumberland Elementary for 11 years. She is a graduate of Longwood University where she earned a bachelor's degree in Art Education & Graphic Design. Mrs. Overstreet knew from a very early age that art would be a significant part of her life. She was constantly creating, and even admits getting in trouble at school because "art can be messy".
After graduating from Longwood, Mrs. Overstreet returned home to Maryland and entered the graphic design field. Within a year, she knew that life behind a desk was not for her, so she returned to college to earn a teaching license. She hoped to recreate the positive impact that her art teachers had made on her. Upon completion, she immediately began teaching at Cumberland Elementary and has called CCES home ever since.
Mrs. Overstreet's talent and passion for teaching have grown each year! She welcomes each class at the door of her classroom with a smile and high expectations of the excitement that is to come. Emily makes each week an art adventure, while aligning her curriculum with each grade levels' SOL's. She offers the students a variety of materials and art processes and introduces them to the artwork of artists from around the world to help develop the artist inside each of them. Mrs. Overstreet brings art to life at Cumberland Elementary School.
When guests visit Cumberland Elementary School, they almost always comment on the student artwork displayed in the hallways. Mrs. Overstreet also designs the bulletin boards in the front foyer and creates the Duke Shoutout board in the cafeteria. Even our State Superintendent took a photo in front of one of her creations.
Mrs. Overstreet's dedication to Cumberland Elementary does not stop in her classroom. Every morning Emily enjoys greeting the smiling faces of CCES students getting off the buses and having a chance to positively affect EVERY single child at Cumberland. Mrs. Overstreet is a member of the School Leadership team and serves as the chairman of her department. She is an active member of the PBIS Event Committee and takes the lead planning our PBIS Buy-ins. She makes all the backdrops for our Annual 4th grade Musical, and is a key player in planning and executing our Walk for Education. Mrs. Overstreet designs, creates, and proofs our yearbooks, and coordinates the yearbook sales. Mrs. Oversteet hopes that her students remember her as one who helped influence and develop their love for the arts.