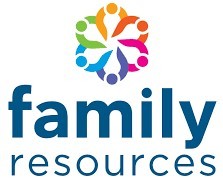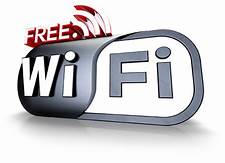 CuCPS has WiFi hotspots installed throughout the community at the following locations:
American Legion Hall: 913 Old Buckingham Road, Cumberland
Cartersville Rescue Squad: 1667 Cartersville Rd, Cartersville (only park in middle area by flag pole)

Cartersville Ruritan Club: 2168 Cartersville Road, Cartersville

Mama D's Country Store: 1368 Columbia Road, Columbia

Ramans Midway Market: 3156 Cumberland Rd, Cumberland

Rocky Mount Baptist Church: 817 Stoney Point Rd, Cumberland

Shiloh New Covenant Church: 1665 Anderson Hwy, Cumberland

Union Outreach Fellowship Church: 237 Jamestown Road, Cumberland
WiFi Network: Kajeet SmartBus PW: smartbus
All SmartBus locations have a daily cap on the data available to use.
Other Open Access Points include:
Front of Cumberland Middle School: Student emails are used for logging in; normal school filtering rules apply. Maintain all social distancing rules. Do not park in any area that is not designated as a parking space. No one is allowed in any area after dark.
New Life Farmville (9 Mahan Road, Farmville): Guest network only; filtering rules apply. Use the upper parking lot. Playground is off limits at all times. Maintain all social distancing rules. Do not park in any area that is not designated as a parking space. No one is allowed in any area after dark.

Bear Creek Lake State Park -- Free WiFi access to students on the deck at the Lakeside Diner; Stop at the Park office to receive a complimentary parking pass; 8am - 4pm, 7 days per week; (no electrical power is available at this location for charging laptops or devices)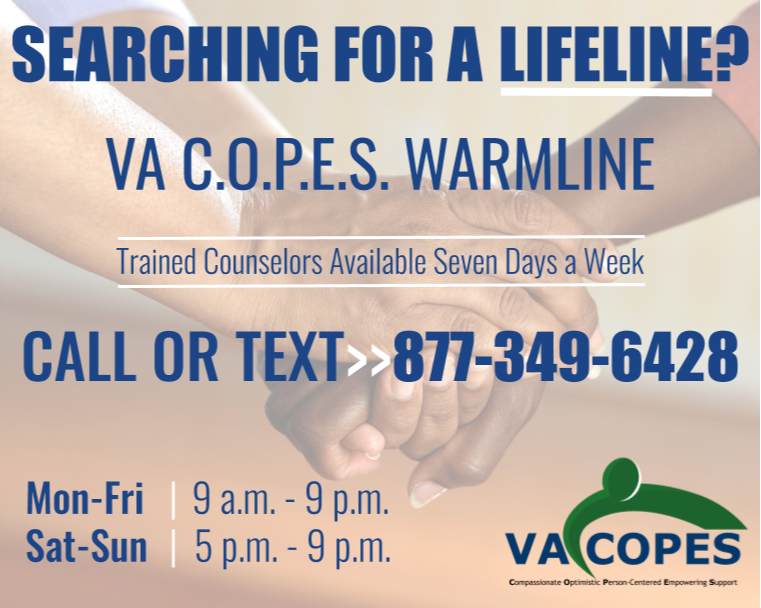 Struggling with stress, grief, and trauma because of COVID-19? Call VA C.O.P.E.S.
This pandemic has changed our lives in so many ways and it's important that we recognize the impact it is having on our mental health and well-being. If you are struggling with stress, trauma, and grief related to COVID-19, please call the toll free number for VA COPES at (877) 349-6428 9am-9pm Monday-Friday and 5pm-9pm Saturday and Sunday. Trained listeners are standing by to listen without judgement, offer support, and connect you with resources.
Unlike services such as 9-1-1 that are reserved for emergencies, a warm line provides someone experiencing behavioral health issues with an easy way to discuss daily struggles.
Common COVID-19 issues are loneliness, fear of uncertainty, old grief returning, anxiety about health or infection, workplace or financial stress, sleep trouble, drinking more alcohol, and using prescription medications more than usual. If you are experiencing any of these feelings or actions, know that you are not alone.
Survival Skills for the Job Hunt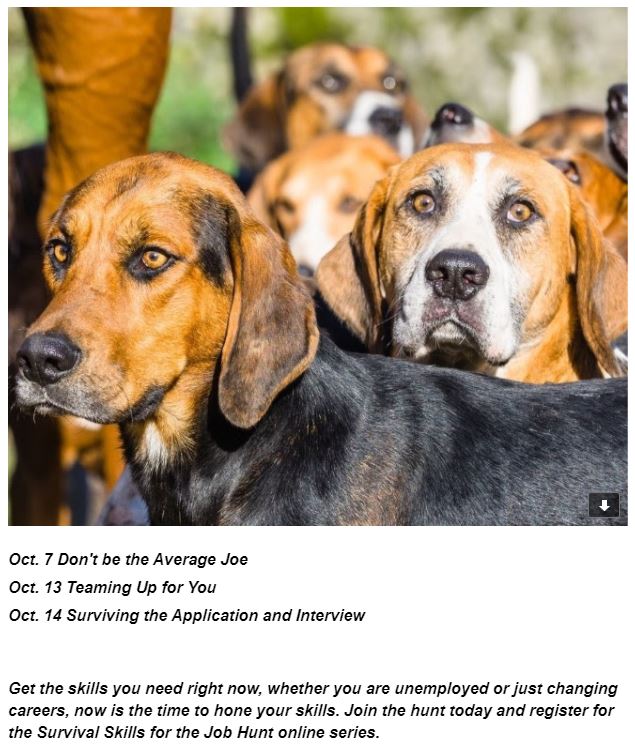 Student breakfast and lunch distribution and delivery is on Mondays. Students will receive five breakfast and lunch meals for the week.
Distribution Sites:
Randolph Fire Department, front of CMS, Cartersville Rescue Squad Building
10:00 a.m. - 12:00 noon
Delivery: Call Mrs. Sandra Raymond at 492-4212 between 1:00 - 2:00 p.m. weekdays prior to distribution/delivery date
Search The Full-Service Employment Center To Find And View Job Openings, Create And Post Résumé, Look For Training, And Much More. Click Here
For Local Job Postings, Click Here
Other Upcoming Job Fairs

Eight agencies collaborate on Virginia's workforce needs. These agencies assist job seekers in finding jobs, employers in recruiting Virginia's talent, and policymakers in locating the information they need to make solid decisions.

SNAP provides nutrition benefits to supplement the food budget of needy families so they can purchase healthy food and move towards self-sufficiency. Click Here
Other Community Resources