EDIT MAIN
Cumberland County Public Schools is a small rural school division located one hour west of Richmond, Virginia. Approximately 1,500 students attend one high school, one middle school and one elementary school. Cumberland Public Schools has over 125 devoted classroom teachers, librarians, guidance counselors and other teaching personnel focused on meeting the educational needs of our students.
Cumberland County is located in the heart of Virginia's vast, rich agricultural belt. Many areas of life within the county are influenced by our rural lifestyle. Our students enjoy the many recreational activities provided by Bear Creek Lake State Park. The State Park is conveniently located four miles from the Public School Campus.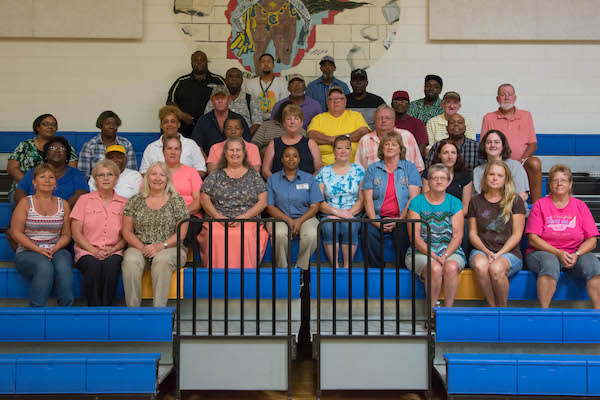 2016-2017 Transportation Staff
ROW 1: Brenda Wingo, Margie Davis, Myra Jacobs, Sheila Richardson, Angie Wright, and Betty Wright.
ROW 2: Lucy Coleman, Geneva Booker, Theresa Leonard, Carolyn Wright, Wanda Smith-Childress, Roxanne Hammonds, Patricia Moorefield, Morgan Naylor, and Amanda Dowdy.
ROW 3: Lileeta Royall, Teresa Booker, Arcille Gilliam, Gracie Harris, Cheryl Dalton, Herbert Wilkerson, and Lydel Blanton.
ROW 4: Eddie Moorefield, Mary Gilliam, Donald Smith, David Brown, James Lampkin, and Callie Newcomb.
ROW 5: Burley Booker, Gordon Wilson, Jessie Trent, and Mervin Parson. ROW 6: Alfonso Bell, Da-Ron Harvey, and Omar Liggins.