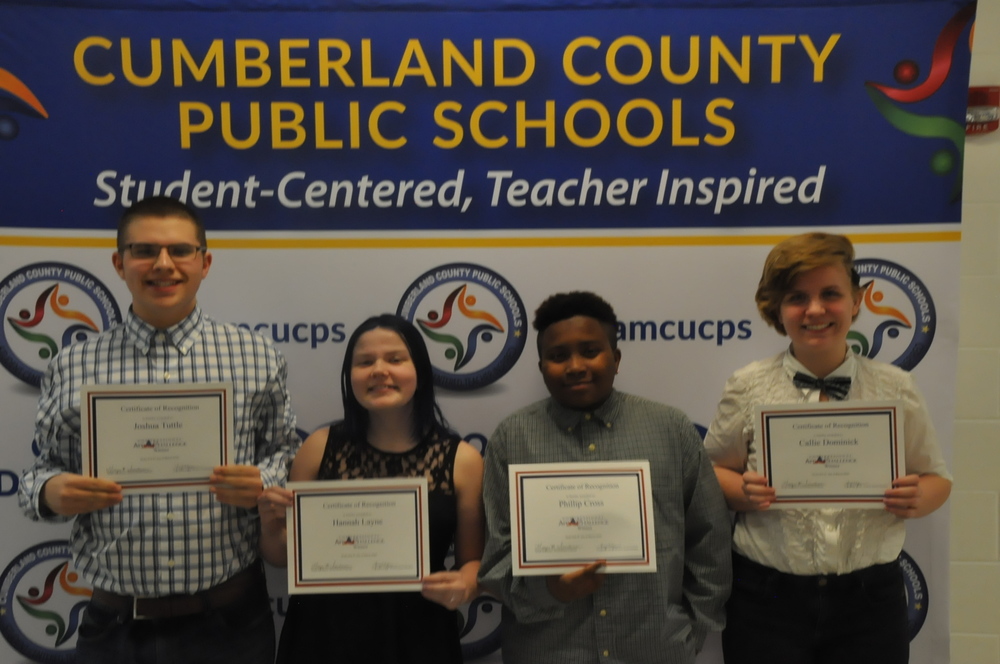 Cumberland School Board Recognizes Congressional App Challenge Winners
Jeff Dingeldein
Wednesday, March 18, 2020
The members of the Cumberland County Public School Board, at the March 5, 2020 meeting, recognized four Cumberland High School students who were named by Congressman Denver Riggleman as winners in the 2019 Congressional App Challenge for Virginia's Fifth District. Winners were Phillip Cross, Callie Dominick, Hannah "Bean" Layne, and Joshua Tuttle. These students created an app called Escape the Government. This app allows engage in a game where players try to escape the government's headquarters and win their freedom.
According to a press release by the Office of U. S. Congressman Steny Hoyer, "The Congressional App Challenge was established by the U.S. House of Representatives in 2013 as a nationwide event which invites middle and high school students from all participating Congressional districts to compete as individuals or groups up to four. Students work to create and present an original software application, or 'app,' for a mobile, tablet, or computer platform of their choosing. The contest is modeled after the long-successful Congressional Art Competition and is designed to promote innovation and engagement in STEM education fields."
This year approximately 10,000 students from over 300 congressional districts developed one-of-a-kind apps for submission in the contest. According to the Internet Education Foundation (2019), "In the five years of the Congressional App Challenge, the program has yielded 1134 App Challenges across 48 states. Thousands of functional apps have been created by over 25,000 students."
Pictured Above:
Cumberland winners in the 2018 Congressional App Challenge include Mark Tuttle, Hannah Layne, Phillip Cross, and Callie Dominick.