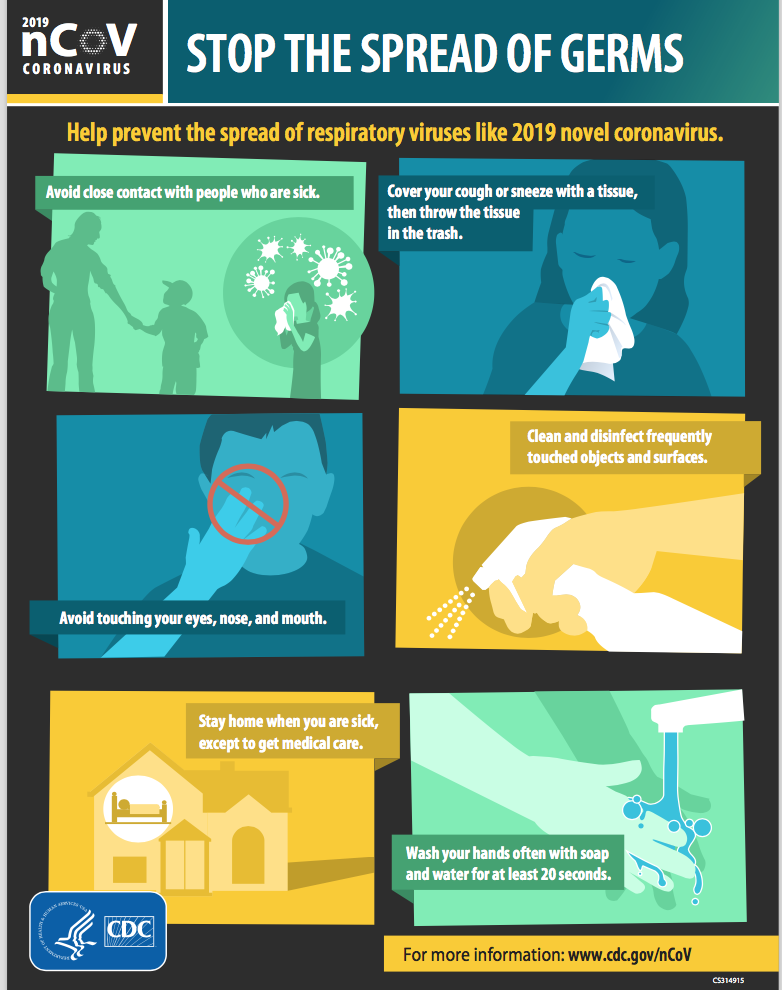 Health Update: Coronavirus Prevention
Amy Griffin
Tuesday, March 10, 2020
Dear CuCPS Family:
As Coronavirus (COVID-19) circumstances continue to evolve, we are carefully monitoring all communication from the U.S. Centers for Disease Control and Prevention (CDC) and following all recommendations with regard to the prevention of and response to any possible outbreak. We are working closely with the Cumberland Health Department, the Piedmont Health District, and following the guidance of public health professionals regarding steps we must take to protect the health and safety of our students, staff, and community. While there are no cases currently in Cumberland, we are aware and cautious of the ability of the virus to spread quickly.
We are focusing on three areas: keeping our school environments healthy; collaborating with local health officials; and planning ways to mitigate interruption to instructional and food services for our students if we had to close school.
Healthy School Environment: We are using a proactive approach to cleaning "high touch" areas of our schools and buses. We are using cleaning supplies that are on the recommended list to address COVID-19. We also continue to encourage everyone to wash hands often with soap and water; refrain from touching your face; cover your coughs and sneezes; stay home when sick; and avoid non-essential travel. Should any new information become available or recommendations change from health officials, we will immediately adjust our practices. We are also taking seriously our responsibility to educate our students and staff about preventative measures to slow or stop the spread of germs.
Collaborating with Local Health Officials: In addition to continually monitoring the CDC resources and advice on this topic, we are in contact with our local health department and the regional epidemiology specialist to determine if there are any immediate or anticipated risks to our community. Any decisions made about the safety and well-being of our staff and students are made in collaboration with these experts in the health and medical field.
Planning for a School Closure: We are not considering any school closures at this time. However, if circumstances change and we must consider this option, we will do so in collaboration with the local health department and local emergency management officials. As with any school closure, you will be notified using our mass communication system that includes phone calls, emails, text, app alert, as well as announcements made on radio and television stations.
In order to be proactive, we are evaluating our crisis procedures for plan for extended closures and our staff members are brainstorming ways we might be able to mitigate the negative effects of closing schools for an extended period of time. One task is determining how we can provide instruction to students through Google Classroom, take-home packets, or other creative measures. We are also developing plans to serve students who may need food when schools are closed.
CuCPS has decided to suspend all CuCPS-sponsored international field trips. This will apply through June 30, 2020.
We will continue to keep you informed as we receive additional information. It is important to keep ourselves healthy and remain calm while reacting to facts, not fear. We have information and resources regarding COVID-19 on our website at http://cumberlandva.apptegy.us/o/cucps/page/health-update--2.
Sincerely,
Amy W. Griffin, Ed.D.
Division Superintendent