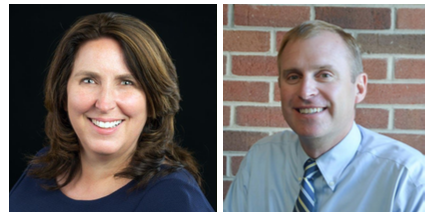 Griffin Announces Retirement as CuCPS Superintendent—Jones Tapped as Replacement
CuCPS
Thursday, March 05, 2020
Dr. Amy Griffin, current superintendent of Cumberland County Public Schools (CuCPS), has announced her plans to retire at the end of the current school year. Griffin, who has been in education for 31 years, has served as an administrator at CuCPS for 17 years. For the past 10 years, she has been the division superintendent. In a letter to the Cumberland School Board, Dr. Griffin expressed her gratitude:
"It has been a privilege and honor to serve as superintendent, central office administrator, and elementary principal at Cumberland County Public Schools throughout the last 17 years. It has been the most rewarding experience of my professional life. I have had the amazing opportunity of seeing our children grow from their early childhood years, through adolescence, to graduates, to parents of children now in our schools. I am fortunate to be able to witness our students and staff doing extraordinary things each and every day.
"I am also fortunate to have been hired and work with knowledgeable, thought-provoking, and supportive Board members who truly put students first. They pushed me to be a leader, not only in Cumberland, but regionally, statewide, and nationally. Being the superintendent of Cumberland County Public Schools has provided me with exceptional partners, networks, and professional learning that spans throughout the state and nation. This would not have been possible without School Board vision and support.
"With all that said—I never really thought I would be one to retire; however, I was told by a mentor long ago that you will know when it is time. Professionally and personally, I know it is time. This decision is bittersweet and not easy for me. However, the stars are aligned. We have an excellent, dedicated, and knowledgeable administrative team currently in place to lead the division forward. We have faculty and staff who are committed to providing access and opportunities for all children. And personally, there are things I need to take time to do with my family."
The members of the School Board accepted her resignation, effective June 30, 2020, at the School Board meeting held on March 5, 2020. At the same meeting, Board members also approved Dr. Donald C. "Chip" Jones to succeed Griffin. Currently, he serves as the division assistant superintendent. Dr. Jones, who has spent 22 years in education, received his Associate degree from Southside Virginia Community College, his Bachelor of Science degree from Longwood College, his Master of Science degree from Longwood University, and his doctoral degree from Virginia Commonwealth University. Prior to being appointed Assistant Superintendent, Dr. Jones served the division as the elementary school assistant principal, as the elementary school principal, and as the director of finance and operations.
Dr. Jones has also been active outside the division. Currently he is the Committee Chairperson for the Virginia Association of School Business Officials, a board member of the Virginia Association of Federal Programs Administration, a member of the Virginia Department of Education Committee of Practitioners, and the lead of the Region 8 Finance Directors Group. He has also served as a past board member of the Cumberland County Public Schools Foundation.
Upon his appointment, Dr. Griffin stated, "I am excited that the Board has decided to appointment Dr. Jones as the next superintendent of Cumberland County Public Schools. There is no other person that I trust more to take the helm and move the division forward. He is dedicated to the children of Cumberland County and will put them above all else in decision making. I look forward to witnessing all the great things to come under his leadership."