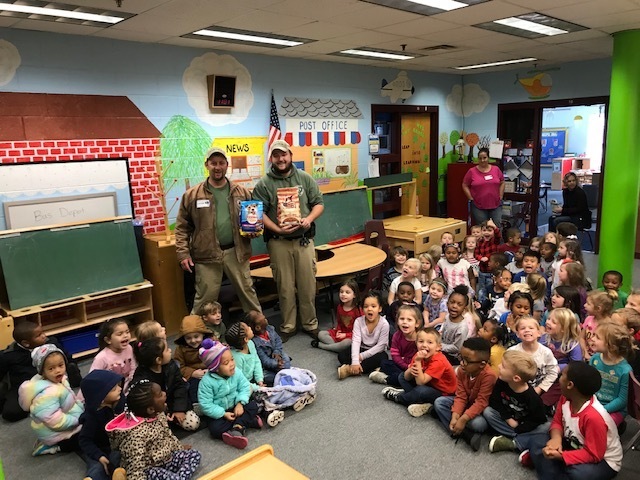 CUCPS Celebrates Second Annual Betty G. Scales Day of Service
Jeff Dingeldein
Thursday, December 19, 2019
On December 2, 2019, Cumberland County Public Schools celebrated the fifth annual Betty G. Scales Day of Service with numerous activities and events. The Day of Service was established by proclamation of the Cumberland Board of Supervisors in honor of long-time educator Betty Scales, who died on May 12, 2015. Mrs. Scales taught in Cumberland County for almost 40 years, having taught at Cedar Fork Elementary School, Pine Grove Elementary School, Luther P. Jackson School, Cumberland High School, and Cumberland Elementary School. In addition to being dedicated to education, she left behind a legacy of service to others. In her memory, students and staff members school-wide engaged in varied service projects. Including the following:
Pre-Kindergarten students supported the local Cumberland County Animal Shelter. Students and teachers collected items such as dog food, cat food, treats, blankets, and even a few pet toys. In order to tie the activity to the curriculum, students learned about communities by having Animal Control Officers come to school and talk about what they do in the community to ensure that animals are safe and cared for.
Kindergarten students made cards of appreciation to those who provided services to others. This included sending thank-you cards to cafeteria workers for their work in preparing nutritious food to students daily.
First graders made place mats to brighten up the table for those in an area nursing home.
Second graders partnered with the Pajama Program to collect pajamas for those in need. They also worked with 8th Graders to make holiday cards for people in hospitals and to make place mats to be delivered by Meals on Wheels.
Third graders made flyers and posters about the Food Pantry. They wanted to ensure that county residents in need of food were aware of this valuable resource by placing the flyers and posters in local businesses and places of interest.
Fourth graders collected gloves, hats, and scarves for underprivileged students.
Members of the Girls Who Code group collected donations for Madeline's House.
Middle school students engaged in a variety of activities. Seventh graders decided to participate in school-wide clean-up. They took their trash bags and patrolled the campus picking up trash and debris. Sixth graders travelled to the elementary school, where they paired up with Kindergarten students and read stories to them.
High school students also performed a variety of services for others. Among other activities, the members of the CHS Science Club joined in the campus-wide trash pick-up.
Staff members at the Central Office joined with Cumberland Elementary Office staff to collect items for the homeless. In addition to food, socks, gloves, sleeping bags, bus passes, and gift certificates to various fast food restaurants, over 20 pairs of boots were collected.
Dr. Jeff Scales--long-time educator, former CHS principal, and son of Mrs. Betty Scales—visited CUCPS to view the service activities being done in his mother's honor.
Pictured Above:
Animal Control Officers Michael Davis and Cody Sprouse visit the Pre-Kindergarten room to accept the donations collected by students to support the animals in the animal shelter. They also explained what they do to ensure the health and safety of the animals in the shelter.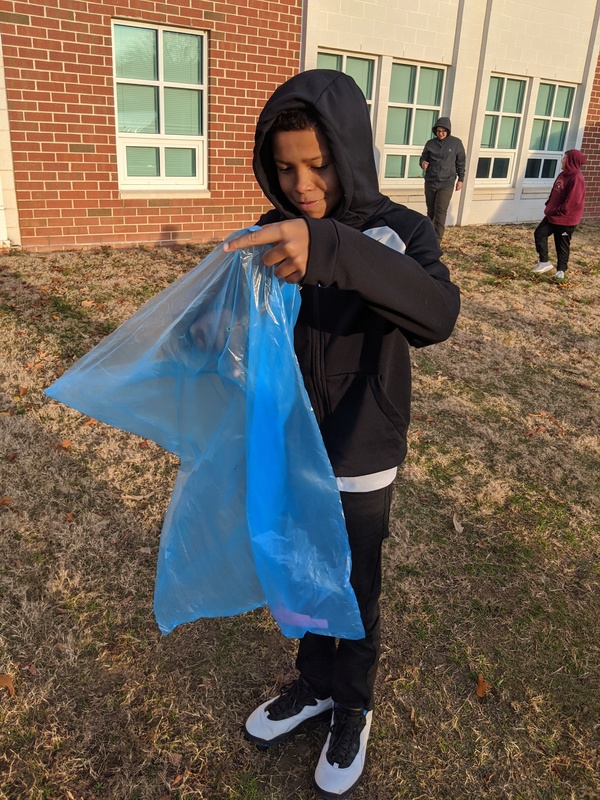 Seventh grader Kameron Brown gets to work with his bag to help beautify the school grounds.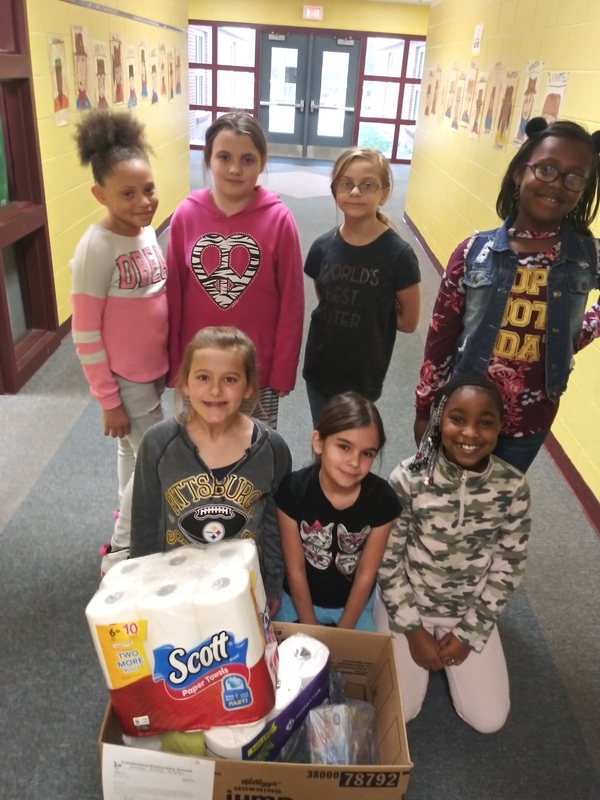 Girls Who Code left their computers long enough to collect items for Madeline's House. FRONT ROW: Baylee Haas, Kylea-Rae Mayes, and Aunnesti Haskins. BACK ROW: Kami Patterson, Cheyenne Naylor, Kayla Myers, and MaKayla Robinson.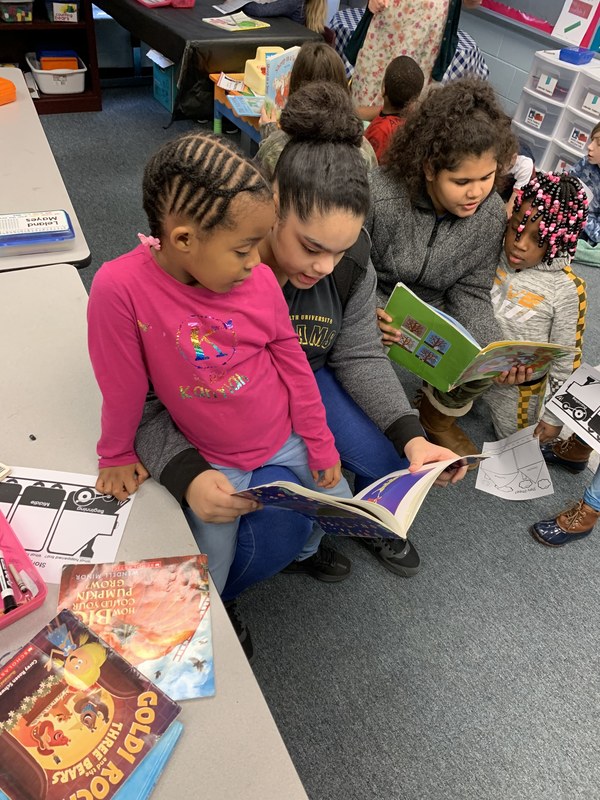 Sixth graders Kayiah Ruffin and Breanna Hartley read to Kindergarten students Kanyiah Myles and Quira Reynolds.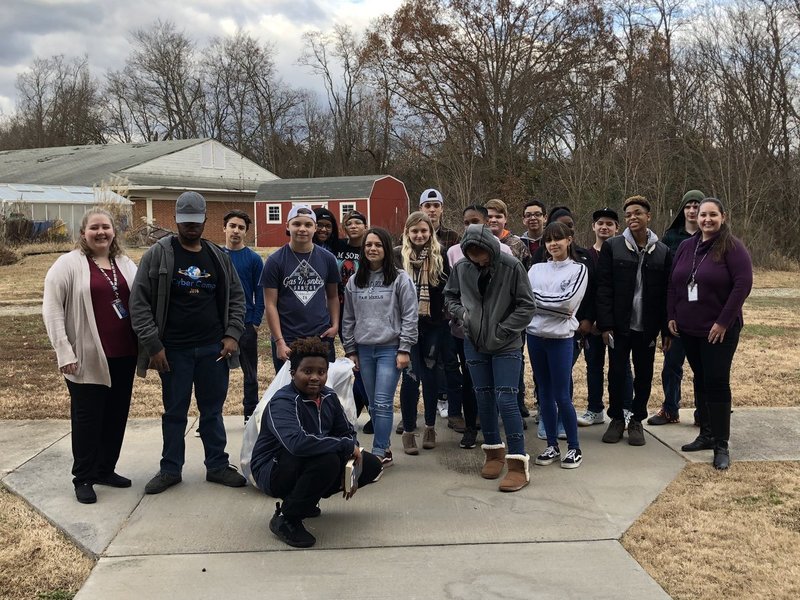 Members of the Cumberland High School Science Club joined in the campus-wide clean-up project.
Fourth graders Neymyah Hill, Ayden Thurston, and Karlee Capps prepare gloves, scarves, and hats for distribution to students in need.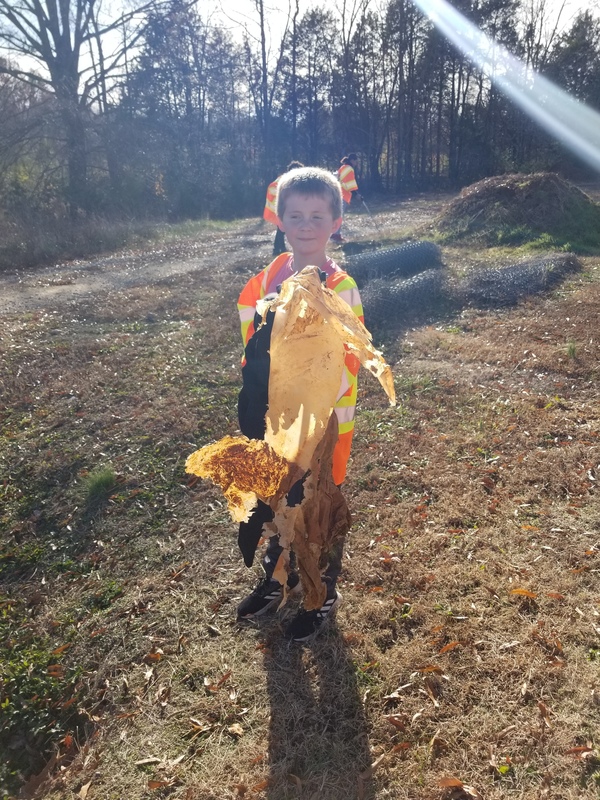 Hunter Hodges, one of the CMS WagiLabs students, participated in the campus-wide clean-up effort as part of Betty Scales Day of Service.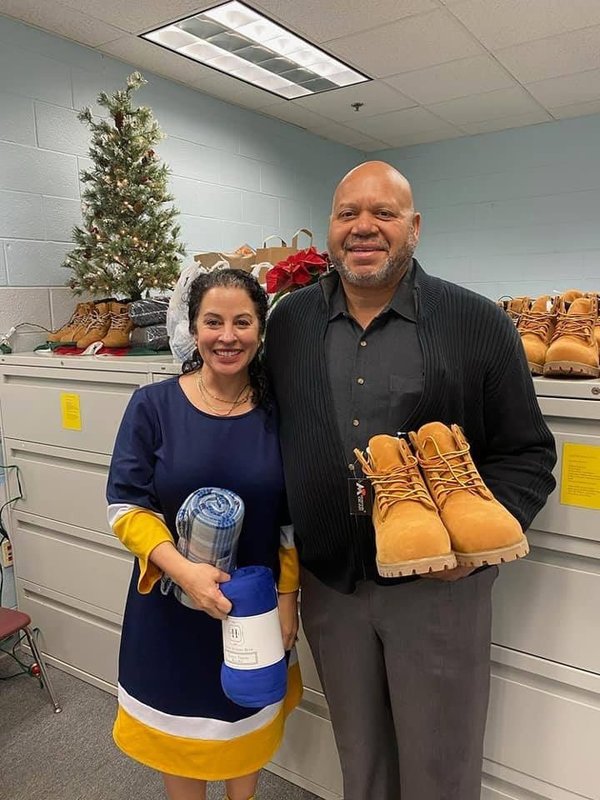 CES Principal Ginny Gills stands with Dr. Jeff Scales as they view the many items collected to assist the homeless.