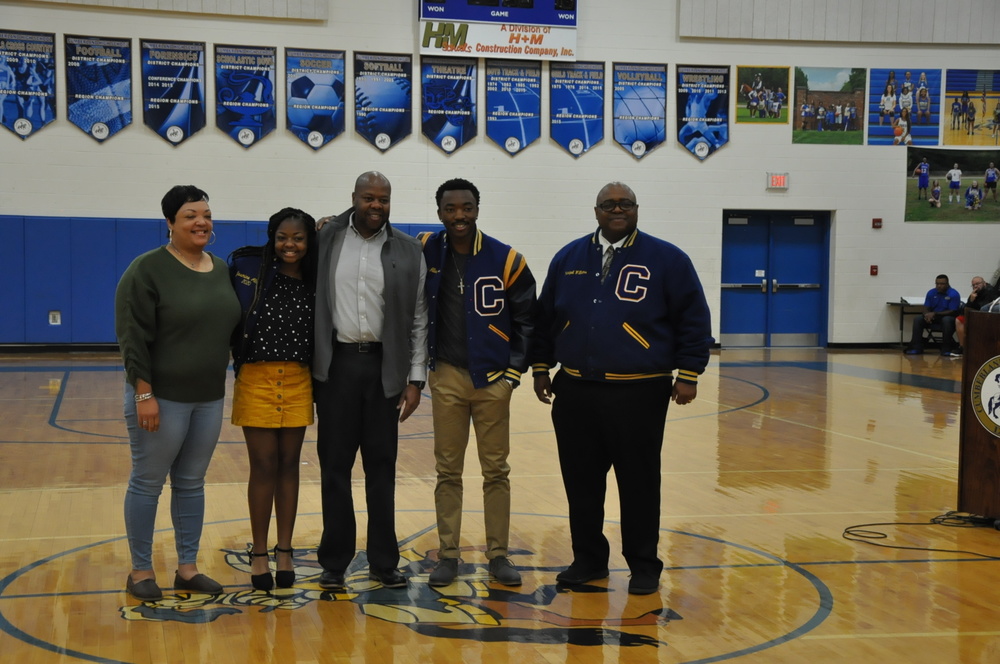 CHS Class of 2020 Seniors Receive Academic Jackets
Jeff Dingeldein
Tuesday, December 17, 2019
On Tuesday, November 26, 2019, thirty-eight seniors at Cumberland High School were awarded an academic jacket during a ceremony held in the CHS gym. These jackets were presented to students who had maintained a cumulative 3.0 GPA during high school. Parents and family members of the recipients were invited to attend.
The ceremony began with the entrance of the recipients, followed by the presentation of the colors by the JROTC Color Guard. Jack Williamson performed the National Anthem on his trumpet and Mr. Eugene Williams, Principal of Cumberland High School, made opening remarks. Mr. Williams presented the jackets to the recipients as Mrs. Ashley Long, Assistant Principal, announced the names. They were assisted by Mrs. Ashley Lawson (school counselor) and Ms. Marie Hopper (guidance secretary). The following Seniors received academic jackets: Jasmine Allen, Blake Barker, Montiara Booker, Tanner Cochran, Hannah Collier, Jason Cooke, Jordan Cooke, Caleb Cottrell, Graceyn Cubbage, Linden Czeizinger, James Dayton, Adam Finch, Blessin Franklin, Raheema Fulani, Sydney Gilbert, Jack Giles, Sade Gregory, Nikki Hurt, Tony Ingram, Conner Jensen, Tykierra Kidd, Jason Long, Amir McClinton, Natalie McConkey, Elizabeth Newman, Jordan Newman, Xavier Ortiz, William Pada, Gabrielle Phelps, Caroline Seal, Cal Smith, Jordan M. Smith, Ryan Stimpson, Carly Thompson, Alondra Tovar, Faith Tucker, Annabelle Williamson, and Grace Witt. Recipients were escorted by parents, family members, and/or friends to receive their jackets. A special presentation was made in remembrance of Tyauna Woodson, who was an honor roll student who died in a tragic car accident in 2017. She would have been a Senior this year. Mrs. BreAnne Woodson, her mother, was presented a bouquet of pink roses in her memory.
At the conclusion of the ceremony, Mr. Williams made closing remarks. Parents, guests, and recipients were then invited to a reception with light refreshments served in the cafetorium.
Captions:
Featured Picture
Jasmine Allen poses with her family: Audra Allen, Jasmine Allen, Ronnie Allen, Christian Allen, and Eugene Williams (principal). Because jackets were presented to recipients alphabetically by last name, she was the first senior to get her jacket.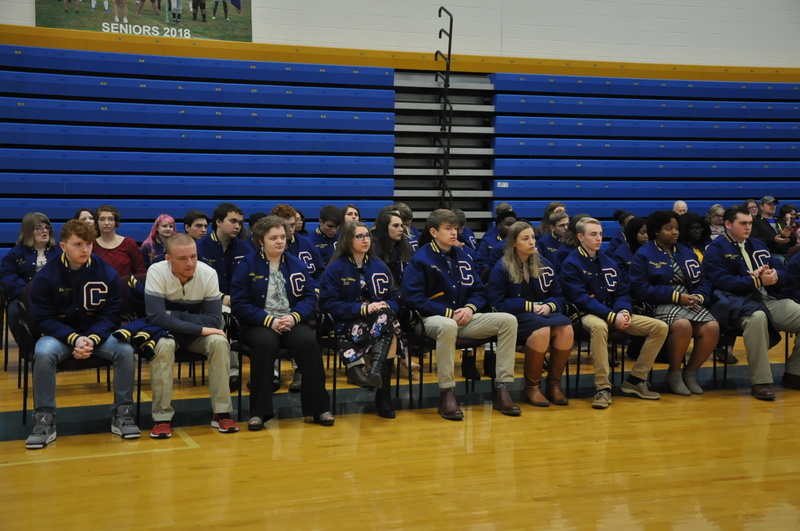 Thirty-eight CHS seniors received academic jackets at the ceremony.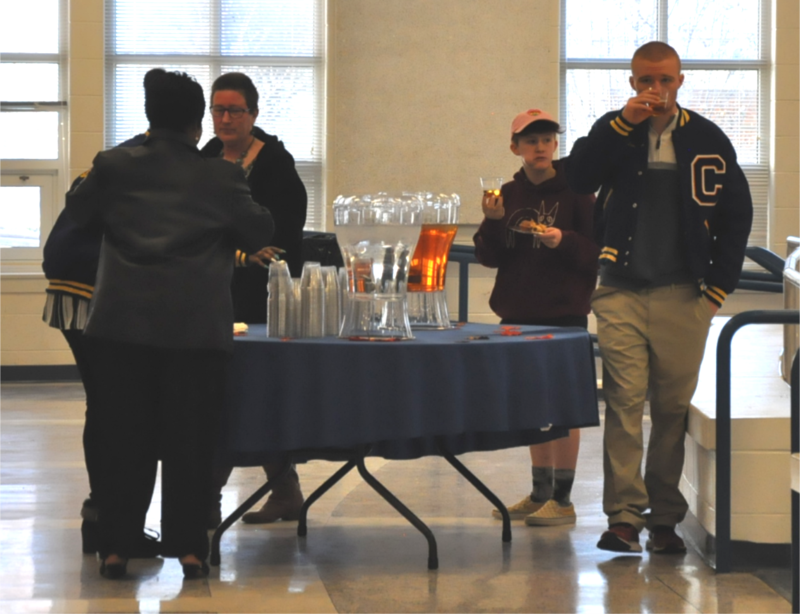 Guests were invited to attend a reception following the Academic Jacket Ceremony.