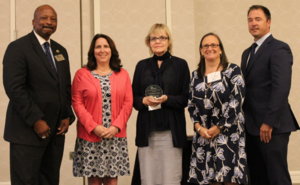 CuCPS Wins VSBA Awards
Jeff Dingeldein
Tuesday, August 13, 2019
Cumberland County Public Schools (CuCPS) was presented with two awards at the annual Virginia School Boards Association (VSBA) Conference on Education, which was held in Richmond on July 22, 2019. CuCPS received a first place award in the Food for Thought competition and a third place award in the Excellence in Workforce Readiness competition.
The Food for Thought competition was created in 2012 to educate, engage, and empower school leaders to address childhood hunger and provide all students in Virginia with healthier, more nutritious school meals. The competition is divided into three separate categories—Healthy School Meals, Meal Access to Fight Hunger, and Wellness and Physical Activity. This year Cumberland County Public Schools won in the category of Healthy School Meals.
The Excellence in Workforce Readiness award seeks to recognize Virginia school divisions that have achieved excellence in workforce readiness through an innovative program/project within their communities. Emphasis is placed on communication and collaboration with the business community, student engagement with the business community, or student entrepreneurial activities. The CuCPS program was entitled Ticket2Tomorrow: Developing Work-Ready Students.
Caption:
Mr. Tyrone Foster, president of the VSBA Board of Directors; Dr. Amy Griffin, Superintendent of CuCPS; Dr. Elizabeth Jamerson, Director of Human Resources for CuCPS; Dr. Sharon Almond, Coordinator of Curriculum and Instruction for CuCPS; and Mr. Nathan Botwright, Regional Director of ABM Industries (the sponsor of the Food for Thought competition).