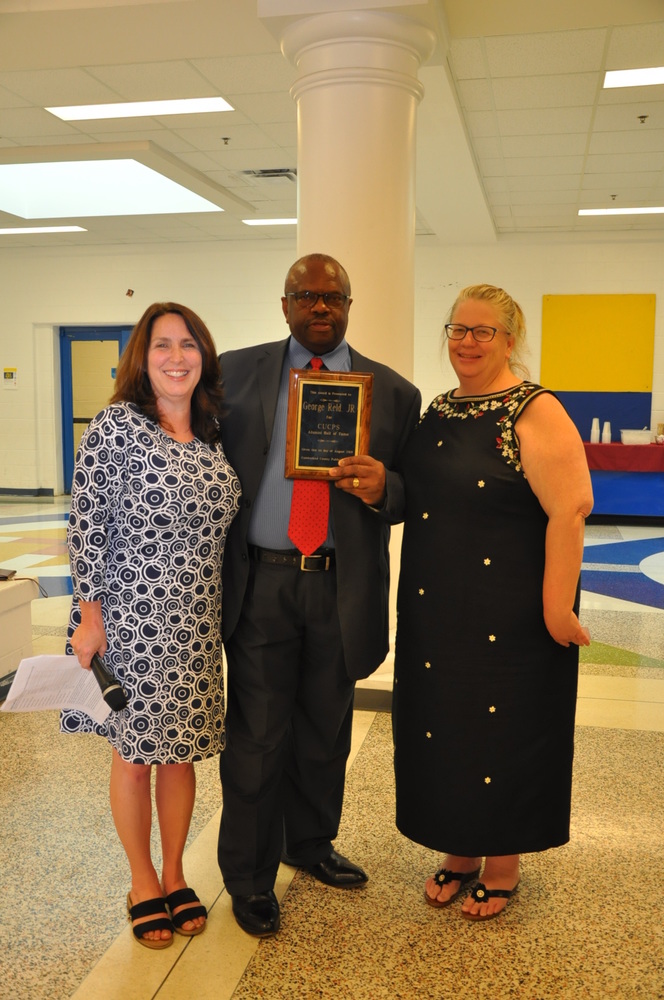 Reid Inducted into CuCPS Alumni Hall of Fame
Jeff Dingeldein
Friday, August 09, 2019
On Thursday, August 1, 2019, Mr. George Reid, Jr., was inducted into the Cumberland County Public Schools (CuCPS) Alumni Hall of Fame. The Alumni Hall of Fame was established to honor former Cumberland County Public School graduates who have excelled or distinguished themselves through personal and/or professional success, and who have made significant contributions to society, including Cumberland County Public Schools. In order to be considered for this award, a nominee must be a graduate of CuCPS and meet the following criteria:
Made exceptional accomplishments or was recognized for leadership in chosen field.
Made significant contributions to society and/or Cumberland County Public Schools.
Demonstrated service in local, state, or national affairs.
Served as an outstanding role model for future students.
In addition to his many professional and personal accomplishments, Mr. Reid has been a life-long supporter of public education and has served on the Cumberland County School Board for almost 25 years. He has been instrumental in bringing about change. These changes include building a new high school/middle school complex, expanding course offerings, implementing new programs such as Microgreens and Senior Project, and lobbying for education funding and reform. He has also been an advocate for providing students with advanced mathematics courses, Career and Technical Education options, and music education. As a Board member, he served on the Governor's School Board of Southside Virginia, where he was Chairman for several years. He has also served as the voting delegate for the Virginia School Boards Association and was Chairman of the Capital Improvement Plan (CIP) Committee.
Mr. Reid was presented with a plaque at a special reception in his honor held prior to the August 1, 2019, School Board meeting. His name was also placed on the Alumni Hall of Fame recognition board, which is housed in the CuCPS Central Office .
Mr. Reid is the second alumni to be inducted into the CuCPS Alumni Hall of Fame. The first recipient was Mr. Robert Sherer, a 1982 graduate of Cumberland High School. Mr. Sherer, who served 10 years in the Air Force, started his own company specializing in ION implant/metals equipment and repair. Mr. Sherer has donated substantial funds to CuCPS to be used for STEM activities and is an avid supporter of the CuCPS Robotics Team.
Caption:
Dr. Amy Griffin (left), Superintendent of Cumberland County Public Schools, presented Mr. George Reid, Jr., (center) with a plaque recognizing his induction into the CuCPS Alumni Hall of Fame. Ms. Ginger Sanderson (right), Chairman of the School Board congratulated Mr. Reid on his accomplishment.