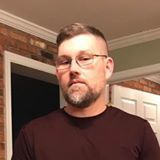 Meet Your School Board Members: Mr. George Lee Dowdy, III
Jeff Dingeldein
Thursday, June 06, 2019
Mr. Lee Dowdy, the Cumberland School Board member representing District 2, has been on the Board for eleven years. In addition to being a member, he served a term as Vice Chairman. While serving on the Board, Mr. Dowdy has been a dedicated supporter of Career and Technical programs and extra-curricular activities for all students.
Mr. Dowdy is a native of Cumberland County. He noted that his family has lived in the area for over 200 years and that one ancestor fought in the American War for Independence. Mr. Dowdy graduated from Cumberland County Public Schools, during which time he received two recognitions. One award was in 1990 for Creative Dramatics, and the second recognition was for civic engagement. After graduating from CHS, Mr. Dowdy continued his education by attending Southside Virginia Community College, where he earned an Associate degree in Administration of Justice. He then attained a Bachelor of Science degree in Criminal Justice from Virginia Commonwealth University and later graduated from the Cardinal Criminal Justice Academy. He also earned a Master's degree from Longwood University in Sociology. In addition, he has also received private investigator training and training in basic supervision.
Currently, Mr. Dowdy is a Security Officer for King's Dominion. Previously, he has been an adjunct professor for Southside Virginia Community College, a substitute teacher for CUCPS, a Group Social Worker for Elk Hill Farm, a Library Security Officer for the University of Richmond, the Chief Park Ranger for Bear Creek Lake State Park, and an Assistant Manager for Dollar General.
As a history buff, Mr. Dowdy has been a member of the Cumberland Historical Society, where he has helped arrange various events, including tours of the county. He is also affiliated with the Freemasons. His hobbies include fishing, hunting, watching movies, and reading. He stated that he particularly enjoys biographies of famous people. He also enjoys writing, and has won seven Editor's Choice awards from Poetry.com. His favorite book is To Kill a Mockingbird and his favorite movie is The Empire Strikes Back.