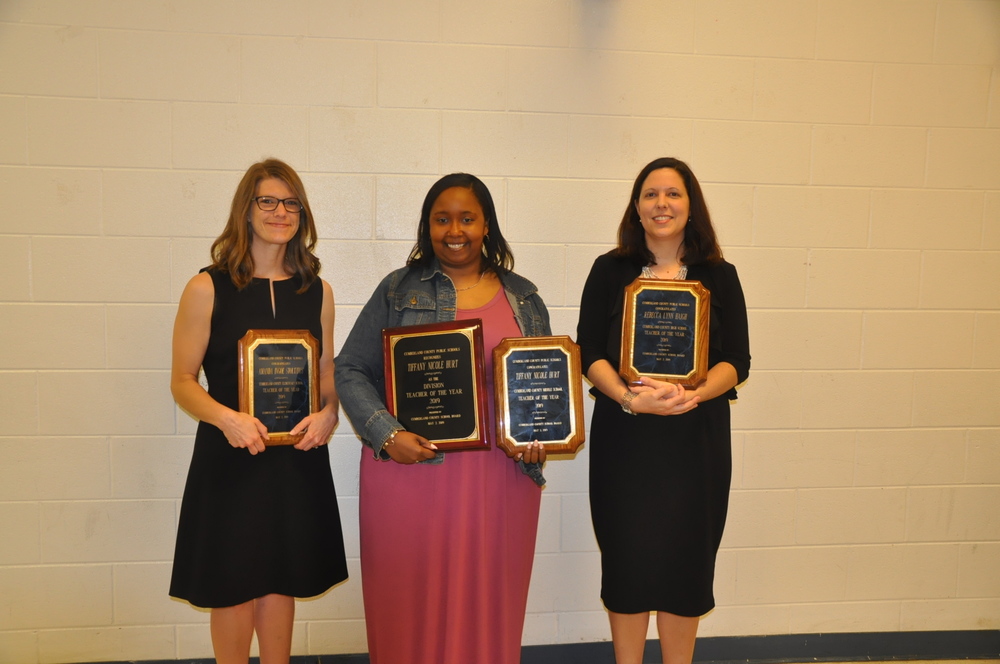 CUCPS Announces Teachers of the Year
Jeff Dingeldein
Tuesday, May 14, 2019
Each year schools across Virginia participate in the Mary V. Bicouvaris Teacher of the Year Program. All public and accredited nonpublic schools are eligible to participate in the program, which is designed to honor teachers who represent the best in teaching in the Commonwealth of Virginia, as well as the nation. According to guidelines, the program is open to all teachers PreK-12 who possess a current, renewable Virginia teaching license; who are employed in a Virginia public or accredited nonpublic school; and who possess dedication, knowledge, and skill in the teaching field. Each school selects a Teacher of the Year, who then competes for the Division Teacher of the Year.
Mrs. Amanda Ingoe Stoltzfus was named the 2019 Teacher of the Year for Cumberland Elementary School (CES). She earned a Bachelor of Science degree in elementary education as well as a Masters degree in Reading from Radford University. She began teaching at CES in 2012. During the past seven years, she has taught second and third grades and has served as a Reading Specialist. Mrs. Stoltzfus has been praised for building relationships with students and for identifying the most effective means to engage students and help them realize significant growth in reading skills. As the Reading Specialist, she has systematically collected and provided analysis of reading data and growth for all students so that her team can provide targeted remediation.
Ms. Tiffany Nicole Hurt was named the 2019 Teacher of the Year for Cumberland Middle School (CMS). Although Ms. Hurt began her teaching career at CES, she currently teaches at CMS as part of the sixth-grade team. She has served on the CMS VTSS/PBIS committee since its origination, working closely with administrators and colleagues to establish school expectations and to provide training and support to create a positive school environment. Ms. Hurt is a co-advisor of the CMS National Junior Honor Society, where she encourages members to do well academically and teaches them the importance of good citizenship by getting the members involved in projects such as the Thanksgiving food drive to benefit Delma's Pantry and the Angel Tree adoptions for the Christmas Mother. She also believes in life-long learning and this year participated in the CUCPS Leadership Academy.
Mrs. Rebecca Lynn Haigh was named 2019 Teacher of the Year for Cumberland High School (CHS). She received a Master of Arts degree in English from Longwood University. She is a twelve-year teaching veteran, and five of those years have been spent at CMS. Currently she teaches English 10 Honors, Dual Enrollment English, English 12, Senior Project, and SOL Recovery. For the last five years, she has mentored student teachers from Longwood University as well as mentoring a CHS student from the Teachers for Tomorrow class. She is a member of the division writing committee, a Senior Class sponsor, a reader for the SVCC's Governor's School Program, a Virginia Education Association representative, and a member of VASCD. Recently Mrs. Haigh started a clothes closet for students who are in need of professional clothes, which assisted many students in being prepared for Senior Project interviews and presentations, college and job interviews, and formal events.
Ms. Tiffany Hurt was selected to be the Division Teacher of the Year, and she will be representing Cumberland in the competition for Region 8 Teacher of the Year for 2020. All three teachers were recognized at the May meeting of the Cumberland County School Board.
Teachers of the Year for CUCPS include Mrs. Amanda Stoltzfus (for CES), Ms. Tiffany Hurt (for CMS and the Division Teacher of the Year), and Mrs. Rebecca Haigh (CHS).